Good morning!!
This is a special recipe .We were preparing in the restaurant Cabo Mayor of Madrid and it was a very nice salad and the favourite for all the people!!
It is very simple to do, the most important thing is the pickle that you it must prepare with a good white wine and vinegar of Sherry.
The pickles are very easy to prepare but it is necessary to do them slow and fondly.

Have a lot off kisses and a very nice sunday!!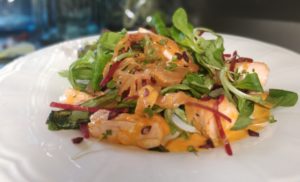 Two salmon salad
2018-10-07 08:44:55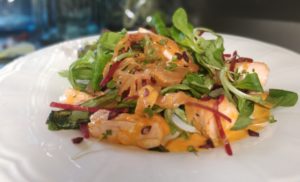 Serves 4
Ingredients
Mixed salad.
½ loin of salmon with skin(leather). (500 grs)
375 ml olive oil.
185 ml vinegar of sherry.
240 ml white wine.
2 onion and 1 head of garlic
2 carrot.
1 leek.
Fresh thyme
Black Pepper in grain.
Cream of tomato
3 mature(ripe) tomatoes.
200 ml virgin olive oil.
1 garlic cloves without the germ and small.
----------------------
8 slices of smoked salmon.
12 tomatoes cherry.
Pomegrate seeds
Micro mezclum
Green salad
salt
spice for the salad
180 ml virgin olive oil.
60 ml vinegar of sherry.
½ green Italian pepper.
1echalote
chive
salt
Instructions
Preheat the oven to 150ºC.
Cut the whole vegetable and fry with partly of the oil that we are going to use.
In a frying pan with little oil fry the salmon with salt and with a strong fire a couple of minutes for the side of the meat.
When the vegetable is cook well add the rest of olive oil, vinegar, white wine and cook a couple of minutes.
Add the black pepper in grain, the thyme and more salt is it necesary.
In a deep plate of oven and not very big arrange the half of the pickle. Above to place the salmon with the skin down and cover with the rest of the pickle (the salmon will have to remain covered.
Transfer to the oven to 150ºC and bake for 15 minutes. Remove from the oven and cool before using.
Scald the tomatoes in boiled water one minute.
Crush them with the garlic and adding the oil up to emulsifying. Season with salt.
Serve the salad in the center of the plate .
Spice with the vinaigrette. Finish with the salmon in pickle and the smoked salmon and the rest of ingredients.
 

Adapted from Restaurant Cabo Mayor
Adapted from Restaurant Cabo Mayor
Catering Iria Castro http://www.iriacastro.com/