Good morning, how are you ?, I hope well and that you are taking advantage of these days to do things that we never have time to do.

In my case I spend the day cooking and monitoring my children, that they study, that they don't attack the pantry and all those things ... well, the most important thing is that at the moment we are all fine!

Here you have the recipe that I prepared yesterday to eat.

This rice is delicious !, also it gives very rich if you put a little bit of cooked chickpeas.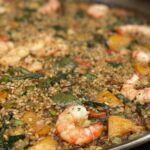 Rice with vegetables, cuttlefish and prawns (Part 2)
2020-03-23 09:19:48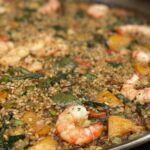 Serves 6
To prepare the rice
For a 40 diameter paella pan.
1 zucchini
1 bunch of green asparagus
1 small cuttlefish (400 g)
2c.s. chopped garlic
1 ripe red tomato
400 g rice bomb
1/2 red, green and yellow bell pepper
olive oil
Salt
Chopped parsley
1,200 l Prawn broth (see part 1)
Preparación
n a frying pan with a little olive oil, sauté the cuttlefish cut into small cubes. Once sautéed, add the chopped peppers and sauté. Add some parsley leaves and finish adding the chopped green asparagus and diced zucchini.
Sauté the whole for a couple of minutes and add salt.
At the time of preparing the rice, bring the prawn broth to a boil that we will already have prepared.
In a paella pan, pour a little olive oil. Add the minced garlic, sauté and quickly grate the tomato.
Then add the cuttlefish and vegetable sauce, stir the whole and pearle the rice (stir fry).
It is important to peel the rice so that the grains are loose!
Cover with the boiling broth, put a little salt and leave ON A STRONG FIRE FOR 10 MINUTES. After 5 minutes add the peeled and lightly seasoned prawns in an orderly manner over the rice (SEE VIDEO) on instagram.
When the broth is flush with the rice, LOWER THE FIRE A LITTLE and cook for 12 more minutes.
Try the rice point!
Turn off the rice and let stand 5-10 minutes before serving.
Delicious if you serve it with lemon wedges or with ali oli.
Catering Iria Castro https://www.iriacastro.com/