The recipe for eggs on the plate is very simple to make and it is a delicious dish !!.

The most important thing about this dish is to prepare an exquisite tomato sauce and then we will finish the dish adding what you like the most; vegetables, vegetables and even beacon, chorizo ​​or serrano ham.

The combination of all these ingredients is exquisite so do not stop making this dish because it is ideal for this summer.




Kisses!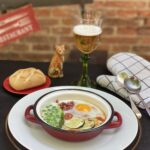 Eggs on the plate with ham
2020-05-17 18:36:32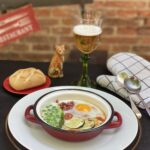 Serves 4
To prepare the tomato sauce
1 kilo ripe red branch or pear tomatoes
1 chive
1 clove garlic
1 c.c sweet and sour paprika de la vera
4 piquillo peppers
1st olive oil
salt and white mill pepper
20 g loaf of bread
Sugar
8 chicken eggs
8 asparagus tips
1/2 zucchini
100 g tear peas (or common pea)
80 g iberian ham
Salt
Preparación
Prepare the tomato sauce by crushing the chopped tomatoes, chives and garlic clove in the food processor.
Pour the crushed into a pot with a good bottom and add the rest of the ingredients except the piquillo peppers; sweet and sour paprika, a splash of olive oil, stale bread, a little sugar and salt.
Boil over medium heat for 30 minutes, stirring the sauce occasionally with a wooden spoon.
Crush again and add the piquillo peppers and rectify the point of salt and white pepper.
Strain through the fine and reserve until used. The sauce should have a thickness that will remind you of a cream !!.
When preparing the eggs to the plate
Preheat the oven to 175ºC.
In a skillet, quickly sauté the zucchini slices and green asparagus over high heat. Season and remove excess oil.
In 4 egg dishes, place the tomato sauce in the base. Arrange two medium chicken eggs on each plate, 3 slices of zucchini, 2 green asparagus, a handful of peas and the mini cubes of Iberian ham.
Season the egg yolk and bake for 8-10 min.
It is very important that the yolks of the eggs are undercooked !!.
Serve with a lot of bread !!.
Catering Iria Castro https://www.iriacastro.com/