The best roasted apples in the world are my mother's!

I'm sorry but it's the truth, he doesn't put anything on them and they leave him scandalized.

I leave you his recipe, 4 ingredients and a special result !!!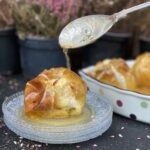 Roasted apples
2020-03-21 19:30:27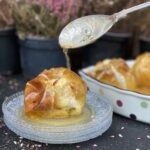 Serves 4
To prepare the roasted apples
4 apples (the ones you like the most) ideal the Golden and the Reinetas
4 c.s. sugar
4 c.s. demera sugar
85 g butter
125 ml white wine
Preparación
Preheat the oven to 190ºC.
Prepare the apples once washed by cutting off the tail and making an incision inward.
Add to each apple 1 tsp sugar, a piece of butter, 1 tsp demera sugar and a splash of white wine.
Pour the rest of the wine through the chosen source. The source should be small so that all the juice and gelatin released by the apples is next to the apples.
Put the apples in the oven for 30 minutes at 190ºC and 25 minutes at 180ºC.
Remove and cool before serving.
They are delicious alone, with vanilla cream, chantilly or with ice cream!
Catering Iria Castro https://www.iriacastro.com/