Yesterday we prepared these delicious cookies and flew!
Use a quality butter and bake at 160 º C for 15 minutes. They are fine and exquisite cookies.
Kisses.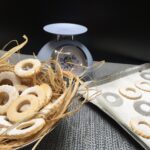 My favourite cookies
2019-04-25 20:14:04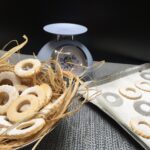 Serves 6
To prepare cookies
Make about 35 cookies.
4 cooked egg yolks
325 g pastry flour
170 g potato flour
125 g sugar Glass
1 Open and torn vanilla pod
310 g butter
A pinch of salt
Sugar Glass
Preparación
Preheat the oven to 160 º C.
In a bowl, mix the two flours with a pinch of salt and the cooked and crushed egg yolks.
Add the cold butter in small dice and vanilla.
Work until you get a dough and then wrap in transparent film and let stand for at least 4 hours in the refrigerator before use.
Remove the dough from the refrigerator, let it stand for 1 hour at room temperature and stretch it with the help of the roller. Cut the dough the way you like and place them on baking paper.
Bake for 15 minutes.
Set aside and let cool.
Sprinkle the biscuits with glass sugar and enjoy them, they are exquisite!
Catering Iria Castro https://www.iriacastro.com/