Poke (pronounced "PAH-KAY ") is a traditional Hawaiian dish made with raw fish and served with steamed hot rice. Poke means "cut or slice", a cube of fresh fish, sushi grade in cubes, marinate them in a simple tasty sauce and serve in a bowl with rice and a lot of dressings.
In this case as I have prepared as an appetizer I served with red endive. It is ideal with any other type of bud…
The dressing is divine and the tuna you know that must be fresh!
Kisses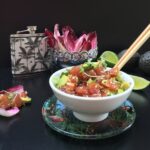 Tuna Poke bowl
2019-05-16 06:35:24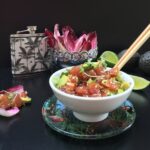 Serves 4
To prepare the dressing
2spring onions
30 ml roasted sesame oil
60 ml soy sauce
10 g grated fresh ginger
pinch chilli flakes
2 tsp sesame seeds
1tsp . Roasted sesame seeds
To finish
370 g very cool fresh tuna
2 medium-sized avocados
Gem Lettuce , red endive...
Lima wedges
Preparación
The first thing you should do is the dressing by placing the sesame oil in a large bowl.
Add almost all the garlic cut into very thin slices and reserve some for the time of serving.
Add soy sauce, grated ginger, chillie flakes and toasted and untoasted sesame.
Mix very well and book in the fridge while we cut the tuna.
Cut the tuna into dice as much as possible and small.
Do the same with the avocado that must be ripe but firm.
Mix with the dressing that will be cold.
Reserve in the fridge until the time to serve.
Ideally you don't have it in the fridge for more than 10 minutes. It's best to serve it 5 minutes after you've finished it.
Accompany it with what you like, with the red endive is wonderful!!!
Catering Iria Castro https://www.iriacastro.com/