Good afternoon
What a lovely cream I've prepared for you today.
This cream is so delicate and beautiful that it is perfect to enjoy it at any time.
I always make it with frozen carrots because in this way I get the cream is a beautiful color.
Buy Gorgonzola Creamy, for this recipe is ideal and the combination is exquisite!
Kisses and until tomorrow!
By the way, tomorrow from 19:30 hrs they prescribed noodles Chow Mein.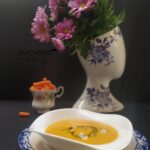 Cream of carrot Gorgonzola soup
2019-01-21 07:31:27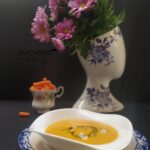 Serves 4
Ingredients
60 g butter
2 cloves garlic, chopped
1 half onion, chopped
1 stick celeri
1 russet potato, peeled and chopped
1 l chicken broth
500 g baby carrots
nutmeg
salt
pepper
½ cup heavy cream
100 g of gorgonzola, crumbled
Preparación
Heat the butter on medium heat in a large pot or dutch oven. Once melted add the onion , celeri, ginger and garlic. Cook until translucent; about 10 minutes. Add the potato and the carrots coat with butter. Add the chicken broth. Cook until the potatoes are tender; about 20 minutes. Remove from heat. Using a blender or immersion blender blend the soup.
Return to low heat and add the nutmeg, a sprinkle of salt and pepper and the heavy cream. Check the seasonings and adjust as needed. Stir well. Add in about 1/4 of the gorgonzola crumbles. Stir until the gorgonzola is well incorporated. Remove from heat.
Top each serving with a few crumbles of gorgonzola and a lot of bread.
Catering Iria Castro https://www.iriacastro.com/