Good afternoon
I haven't published a recipe in days, but I'm so busy with our return to Spain that I can't get to everything!!!
Today's frittata is a delicious Italian dish and very easy to make. It is an omelet composed of many eggs with the ingredients that you like the most and with a little cheese.
I always finish them in the oven because not having the consistency of a potato omelette it is very difficult to turn it around.
Before I forget! I remind you that from September you will find my new cooking courses here on my website.
We start in October with the cooking courses and with our catering service loaded with new and exquisite recipes!!
Kisses and happy night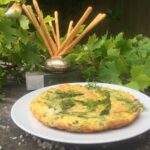 Smoked salmon frittata, green asparagus and dill
2019-06-22 20:12:42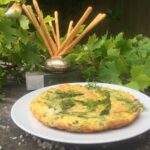 Serves 4
To prepare the frittata
6 free-range hen eggs
40g cream cheese
1 bunch of thin green asparagus (optional trigueros)
125g smoked salmon
the zest of 1 lemon
A few drops of lemon juice
3 shallots
Olive oil
Chopped fresh parsley and sling
Salt and white mill pepper
Preparación
Preheat oven with grill at 180oC.
Whiten the asparagus in boiling water with a little salt and sugar.
Boil for 1 minute, set aside, drain and refresh.
On the other hand beat the 6 eggs with cream cheese, lemon zest, lemon juice, salt and white pepper.
Add chopped smoked salmon, asparagus and chopped herbs.
In a pan about 22 cm in diameter approx rehome with a little olive oil the chopped shallots. You mustn't get color!
Add the frittata and make sure the green asparagus and salmon are well distributed.
Leave to cook over medium heat for 4-5 minutes.
Add a thin oil thread over the surface and place in the oven for another 4 minutes.
Check before removing from the oven that it is well curdled.
Serve with a green salad seasoned with Modena vinegar and you will have the perfect dinner for a special night!.
Catering Iria Castro https://www.iriacastro.com/