This recipe can be prepared as an appetizer or as a first course.
It is a delicious dish that was prepared in my cooking school in Madrid in an Italian cooking course and I remember that it had been a success.
The combination of the Orly pasta that we are going to prepare to batter the ham rolls with the Taleggio cheese cannot be finer and more delicate.
The Orly pasta is a type of batter that is prepared with a liquid with gas, either beer or water and is added to the clear pasta to the point of snow.
It is very easy to do but that if the pasta Orly can not wait, when you are ready to use it!!.
Make a lot , I guarantee you want to repeat!
Kisses and Happy Weekend!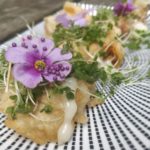 Speck ham with cheese Taleggio and beet sprouts
2018-06-07 07:42:52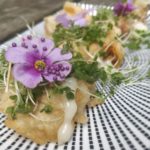 Serves 4
Ingredients
8 slices of speck ham
8 Cheese dice Taleggio of 3x4 cm approx
Black Mill Pepper
Mezclum salad with beet sprouts
Micro Mezclum
Basil Oil (optional)
To prepare the Orly pasta
250 gr Common wheat flour
1/2 bottle of beer
2 egg yolks
2 egg whites to the point of snow
Salt
A splash of milk
Preparación
On the work table stretch the thin slices of ham and lay near the edge that is closest to you cheese dice.
Roll the cheese with the slice of ham so that the cheese is well wrapped.
Book them covered with film in the fridge until the time of serving.
Prepare the Orly pasta by placing the flour in a bowl. Add the beer little by little while we mix the set with a hand rod. Then add some milk to lighten the mixture and egg yolks.
Put salt on point and book in the fridge if you are not going to use it at that time.
At the time of serving
Mount the Whites to the point of snow with a pinch of salt.
Insert them into the Orly pasta twice using a rubber spatula.
Batter the Speck rolls in the one-on-one Orly pasta and move them into the hot oil.
Heat in a deep fryer or in a saucepan abundant sunflower oil.
When reaching 180 º C (HOT) go frying The rolls little by little, do not touch on the frying, must be separated!
When they have a golden color Bonnito, pass them to kitchen paper to remove the excess fat and serve them in an ideal dish with a bouquet of varied salad and the dressing that you like.
If you are going to serve as a first course, with two is enough... or so I think!.
Catering Iria Castro https://www.iriacastro.com/