This recipe I learned living in London and is very easy to prepare and lovely.It is ideal for serving at a snack or coffee break.
I hope you like it as much as I do!
Happy week!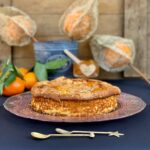 Cheesecake of orange
2020-01-12 09:38:16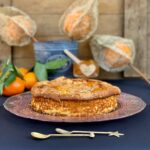 Serves 12
To prepare the cheesecake
4 egg yolks
4 egg whites
100 g caster sugar
225 g natural yogurt
225 g cream cheese
30 g flour
5 tablespoons extra orange jam
1 c.c. fennel seeds
Preparación
Preheat oven to 170ºC.
Prepare the cheese cake by mixing the egg yolks with 70 g of sugar in a bowl. Beat until white.
Meanwhile in another bowl mix the yogurt with the cream cheese, whisk with the hand wand.
Add the cheese and yogurt to the egg yolks and mix. Then add the sifted flour and mix with a rubber spatula, gently and with wrapping movements and finish adding a little more than half of the orange jam.
Beat the egg whites and gradually add the remaining 30 g of sugar.
Once well assembled add in three times and gently to the mixture of yolks and cheese.
Pour the cream into a 20-22 cm mould that will have greased and lined the base with baking paper.
Spread on the surface of the cheesecake with a spoon the rest of orange jam and some fennel seeds.
Bake at 170ºC for 45 minutes.
Remove from the oven and leave to cool in the mould.
Adapted from Iria Castro
Adapted from Iria Castro
Catering Iria Castro https://www.iriacastro.com/