This is one of my favorite raviolis!!!
It's so, so rich that I do it very often. The coulis of red pepper to be sweet is delicious with goat cheese.
Happy Saturday night!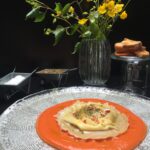 Goat cheese ravioli with red pepper coulis
2019-06-08 20:14:57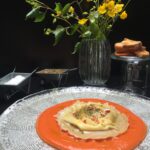 Serves 4
To prepare the pepper coulis
1 onion.
2 Red Roast peppers
3 shallots, 1 clove of garlic.
1 Leek (the white part)
laurel.
2 cloves of garlic.
Thyme
Sugar.
60 Grs of butter.
280 GRS tomato sauce.
Ravioli Pasta
8 Sheets of pasta (Wonton dough)
Salt and olive oil.
4 goat cheese Crottin.
Black pepper.
1 egg white.

Preparación
Prepare the coulis by chopping the onion, peppers, shallots and leeks.
Fry with butter in a sauté. When it is well poached add the garlic and herbs. Cook slowly for 10 more minutes. Season with salt, pepper and 2 tablespoons of sugar.
Add the natural tomato sauce and leave to the fire until the pepper starts to get rid of. Remove herbs, mash and strain. If it is necessary to add a little water so that the texture is like a thick cream.
On the other hand prepare the ravioli by putting 4 sheets of pasta wonton on the table. Brush the sheets with egg white WITHOUT beating and put in the middle of each one goat cheese with a little black pepper on top.
Cover with another sheet of pasta brushstrokes with egg white and paste them very well. (now the ravioli could be frozen).
Put water to boil to the fire with a little olive oil. When boiling, add the ravioli and let it cook for 3 minutes.
Remove from water, drain and dry well. In the presentation plate have in the center the coulis of hot red pepper and in the center the ravioli. (If you like the chili you can add a few flakes of chillies above).
Finish the plate with a fine thread of virgin olive oil.
Catering Iria Castro https://www.iriacastro.com/