It is one of my favorite rices. Prepare the broth by roasting the chicken until it is very well browned and with the skin crisp.
This will add a flavor to the SPECTACULAR broth !!!! Fry the rice very well so the rice will be very loose. Enjoying this recipe because I love it!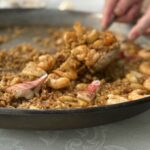 Very nice rice
2020-05-07 18:20:36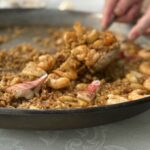 Serves 4
To prepare the fish broth
For 1.5 kg of fish bones (trash, monkfish head, galleys, white fish bones, sea crabs, prawn heads, rice shrimp, scorpionfish ...)
5 liters of water
500 g roasted chicken in the oven (watch video)
350 g veal black pudding
1 c.s. sweet and sour paprika from La Vera
2 seeds without seeds
100 ml tomato pulp (hida)
Bresa: 1 onion, 1 carrot, 1/2 leek, 1 celery stalk, 1/2 head of garlic
To finish the rice
Per 300 g rice bomb
1,150 ml fish broth
A 40 cm diameter paella pan
350 g monkfish clean and diced
2 medium-sized mullets
1 cuttlefish
4 garlic cloves, minced
16 prawns, peeled
80 g tomato pulp
olive oil
1 c.c. sweet and sour paprika
Salt
Garlic mayonnaise (see vegetable pie recipe).
Preparación
Prepare the broth by cutting the vegetables. Sauté it in a large pot with a little olive oil. Add the tomatoes, the tomato sauce, the sweet and sour paprika, the ñoras and sauté very well (see video).
Finish by adding the fish bones, crabs, the piece of blood sausage and the shells of shrimp and prawns ...
Move the set very well for 10 minutes and finish adding the chicken that we will have roasted and with a beautiful golden color.
Cover with water and boil for 2 hours over medium heat.
Strain.
To finish the rice
Chop the garlic very well. Clean the mullets and cut the loins into pieces.
Chop the cuttlefish and place a little oil in a 40 cm diameter paella pan. Add the minced garlic. Then add cuttlefish, tomato pulp and paprika. Move and add the bomba rice.
Cashew the rice and pour the fish stock. Move with a wooden spoon and SET TO A POINT OF SALT.
At the moment the broth starts to boil, leave 10 minutes on high heat AND DO NOT TOUCH THE RICE !!
Lower the heat and at that moment add the seasoned prawns and the red mullet, also lightly seasoned into pieces.
Leave 10 more minutes to the fire, ON SLOW FIRE !!
When the broth has evaporated, remove from the heat and let stand for 5 minutes before serving.
Accompany with garlic mayonnaise and you will see what a delight !!!!!
Catering Iria Castro https://www.iriacastro.com/