Nice, nice, nice!!!
This récipe is very easy to do and lovely!
You will have a few beautiful and exquisite Snacks for the hour of the appetizer or even to serve in a very special snack.
Kisses and happy week!!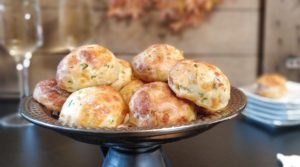 Snacks of mozarella filling with cheese and dry tomato
2018-09-30 08:23:10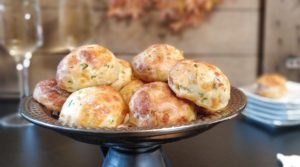 Serves 20
For 20-25 snacks according to size
100ml of water
35g butter
Salt
Sugar
2 eggs
65g of flour
65g of grated mozarella
basil
Salt
White pepper for the end
For the filling
80g dry tomato
150g of cheese cream philadelphia
Basil
20ml of milk (if is necessary)
50g of Parmesan cheese grated to serve
Preparación
Preheat the oven to 200ºC.
Do the pasta choux putting in a ladle to the fire the water, the butter, the salt and the sugar.
Cook slow fire and when the butter is completely melted, raise the fire and add rapidly the flour. Boiled 2 minutes, without stopping removing with the help of a spoon of wood, separating of the fire and spilling the mass in a bowl.
Without losing time and being the warm mass to add the eggs of one in one.
Add basil and the grated mozarella.
Arrange the pasta choux in a sleeve and do the snacks of the size that more you like on a tray of oven that you will have lined with graser paper
Bake to 200ºC the first 6 minutes and 190ºC 10 more minutes.
Process all the ingredients of the filling, dry tomato, cheese and the basil.
If the mixture was remaining too dense add milk to lighten it. (I have not had to add milk).
At the moment of serving to refill the snacks of mozarella and introduce them in the oven dusted with Parmesan cheese grated above during 5 minutes.
They can be served also to temperature set, they will be also divine!!!
Catering Iria Castro https://www.iriacastro.com/