This dish is a real classic!
In which house is not occasionally made a meat stew?, should be done in all and very often.
Today I want to share with you my recipe of stew or ragu of meat.
You'll see how after you do share the recipe with your friends!
Kisses and happy Saturday night.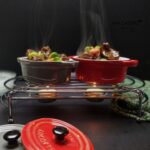 Beef stew with vegetables
2019-01-26 07:52:41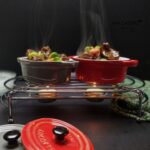 Serves 6
To prepare the stew
1400 g ideal Veal meat for braise (needle, shank...)
Olive oil
Small 1cebollas
2 stalks celery
3 cloves garlic
1 leek
2 shallots
1 carrots
4 mushrooms
300 ml red wine
Veal bottom (broth)
Salt
White pepper
Cornstarch
Vegetables
Brussels Mini Sprouts
Frozen peas
Baby carrots
Salt
Preparación
Pour a little olive oil in a pot of good depth (30 cm diameter approx.). Heat very well and add the meat in twice previously seasoned.
You must fry the meat until it is sealed and then set aside.
When we have finished sealing the meat in the same pot add all the vegetables very chopped (you can do it with the help of the cooking robot). The vegetables have to be very chopped not undone! If you see it needs more oil add a little. After 10 minutes add all the meat and mix very well the whole. With the fire high and being all good hot add the red wine and let it reduce almost to dry.
At that time cover the meat with the dark veal bottom that we will have prepared and let cook covered with baking paper for 2 hours.
Along the cooking go check the point of the meat and it is important to boil with tranquility.
After checking that the meat is tender remove from the heat and leave to stand for at least 2 hours.
Meanwhile clean the cabbages and blanch them in boiling water for 3-5 minutes. Must be to the point. Drain and refresh quickly to maintain a nice color.
Whiten baby carrots in boiling water with salt and white pepper for 5 minutes and proceed as with cabbages.
Finish the stew
Heat the meat stew slowly and when it breaks to boil lower a little fire and taste of salt.
Dilute 1 C. S of cornstarch in a little water, mix with a spoon and add to the stew, mix very well.
Add the frozen peas, baby carrots and Brussels sprouts.
Heat well and serve.
Accompany with some chips, white rice
Catering Iria Castro https://www.iriacastro.com/