Good morning
On weekends I usually prepare some special dessert because at home it is allowed to eat almost everything!
Today we will enjoy a lot with this delicious and original Pavlova. If you dare to make it you will see that the nectarine gives a very special touch.
Kisses!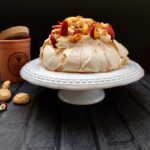 Nectarine Pavlova
2019-05-18 07:47:09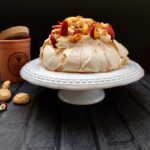 Serves 10
For Pavlova
4 large egg whites
225 g fine sugar
1tbs cornstarch
1tsp Vanilla extract
1tsp lemon juice
For filling
55g sugar
1/2 lemon juice
4 ripe but firm Nectarines
4 tbs Amaretto
350 ml double cream
1tbs. Vanilla extract
4 Chopped Amaretti Cookies
Preparación
Preheat the oven to 120 º C.
On baking paper and with the help of a 20 cm ring, draw the diameter of the ring. Remove the hoop and reserve the measurement to make the pavlova.
Whisk until the egg whites are mounted in the cooking robot.
Squeeze them little by little with the sugar, you will have to add the sugar spoonful to spoonful, it is important that the meringue is very well assembled.
To finish quickly add cornstarch, lemon juice and vanilla, mix and stop whipping.
Pour the meringue on the paper of the oven, respecting the diameter we draw.
Leave a hole in the center, as if we were making a volcano.
Enter the oven for 11/2 hour. Check that the meringue does not take color, if so lower the oven to 110 º C.
Turn off the oven and let the pavlova cool down in the oven (approx. 4 hours).
To prepare the filling beat the double cream and half-assembled add the amaretto and vanilla. Once very well assembled book in the fridge until the installation of the Pavlova.
In a frying pan, caramelize the sugar with the lemon juice, add the nectarines cut into thick laminates and sauté for a couple of minutes. Add the Amaretto and quickly set aside. Let it cool down.
When serving, fill the pavlova with the double cream and finish with the nectarine on the cream and the crumbled amaretti cookie.
Pour the nectarine syrup over the cake and enjoy it!!!
Adapted from Iria Castro
Adapted from Iria Castro
Catering Iria Castro https://www.iriacastro.com/