Here is the recipe for a very amazing pizza dough.
Encourage to make it, it is a very easy recipe and it is delicious !!! Kisses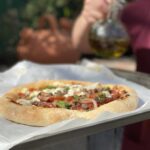 Mediterranean Pizza
2020-03-28 07:46:27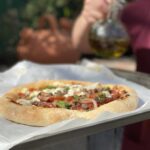 Serves 2
To prepare the dough
175 g strength flour
120 ml warm water
1 tsp sugar
1 tsp salt
40 ml virgin olive oil
1 c.s. dry yeast
To finish my pizza
100 g dried tomato
75 g tomato puree concentrate
5 anchovies, chopped
40 g capers
8 cherry tomatoes
Fresh basil
80 g goat cheese roll
Virgin olive oil
Salt and mill pepper
Polenta
Preparación
Prepare the dough on the work table or in the kitchen robot.
Put the flour, sugar, oil, yeast and water in the form of a volcano. Work and add the salt.
Mix the whole very well and roll.
Reserve in a kitchen bowl covered with a dry cloth and leave to ferment for almost 1 hour.
You will need to double its volume.
Sprinkle polenta on the work table. Work the dough on the polenta and give it the desired shape.
Let it ferment again for approx. 30 minutes.
As you can see in the video published on instagram, leave the edges of the pizza thicker than the rest!
With a brush, place the concentrated tomato puree in the base and then add the rest of the ingredients.
To finish, pour a fine thread of virgin olive oil and bake for 25 minutes at 190ºC.
Enjoy it !!
Catering Iria Castro https://www.iriacastro.com/