Not if you think the same as me but every time I like the recipes without major complications and also be exquisite!!!
Here you have the example and I'm sure this recipe will fall in love with you. It's nice, it's easy to make, ideal for kids and older, you can freeze and it's delicious. What more can you ask of a gateau?
Kisses and Happy week.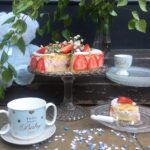 Strawberry Gateau
2019-05-12 09:53:17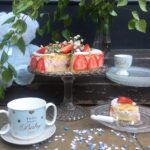 Serves 8
Ingredients
For an 18 cm diameter mould.
To prepare the sponge cake
3 small eggs
50 g flour
1 DC Chemical yeast
Vanilla extract
50 g fine sugar
Sugar Glass
Ripe but firm strawberries
To prepare the mousse
270 g low-fat natural Greek yogurt
Ripe strawberries of the same size
1.5 Jelly Tail
155 g strawberry Jam (use St Dalfour Strawberry)
100 ml whipped cream for cold riding
Preparación
Preheat the oven to 180 º C.
Sift the flour, add the chemical yeast.
On the other hand beat until whitening for 5 minutes the eggs with the sugar.
Add once the vanilla extract has been blanched and gradually and with the help of a spatula the flour.
Mix with affection, it is important that the mixture is very spongy.
Pour over the greased mould and the base covered with baking paper.
Bake for 25 minutes checking before removing from the oven.
Let stand for 10 minutes in the mold before removing and placing it on a grate. Let it cool down.
Meanwhile, prepare the mousse by heating the strawberry jam to the Fuago until it dissolves completely. Add the gelatin that has been hydrated and drained out of the fire. Mix and let cool for 10 minutes.
Finish the mousse adding to the almost cold jam the Greek yogurt and finally the whipped cream.
Mix with affection and carefully.
Cut the biscuit in half and place one of the halves at the base of the mould. Add the strawberry mousse, stretch it lightly and cover with the other half of the sponge cake.
Press lightly and store for 4 hours in the refrigerator or in the freezer.
Adapted from The summer
Adapted from The summer
Catering Iria Castro https://www.iriacastro.com/