IM so lucky!!
Maria José, my friend and excellent cook, among many other things, has taught me how to make this delicate and fine 3 milk cake recipe.
It is a very popular dessert in Mexico, Colombia, Chile, Venezuela, Peru and other countries in Central America. Maria José is Colombian so you can get an idea of ​​how this sweet and delicate dessert will be …
The pyrex is very important where you do it so that it is perfect. For the quantities that I am going to give you, you must use a mold of 26 cm diameter x 5 cm high approx.
As its name indicates we will use 3 milks; condensed, evaporated and milk cream and we will make a very fluffy sponge cake that we will bathe in the milk … well, let's go to the recipe! Lots of encouragement and stay home !!!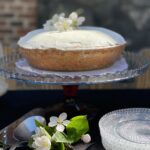 Three milks
2020-03-24 08:25:22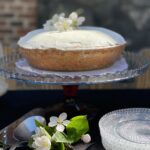 Serves 6
To prepare the tres leches cake
5 egg whites
5 egg yolks
1 cup sugar
1 1/2 cups of flour
1 tablespoon vanilla extract
2 tbsp Brandy
For the three milks
1 cup evaporated milk the ideal
1 cup condensed milk
1 tz milk cream (cream)
To end
250 ml whipping cream
55 g icing sugar
Butter to grease the mold.
Preparación
Preheat the oven to 180ºC.
In the bowl of the electric mixer beat the 5 egg whites and gradually add the sugar.
Lower the speed and once assembled at a point of snow add the 5 egg yolks, mix and finally pour the sifted flour very slowly, mix with the help of a spatula with enveloping movements, the brandy and the vanilla.
Pour the mixture into the pyrex that we will have greased with butter and bake for 20 minutes approx.
It should not be very golden, it is important to have a soft golden color,
Meanwhile prepare the three milks; mix them in a bowl.
When the cake is at its point, prick the entire surface with a skewer, gradually add the three milks, let the cake go, sucking the milk little by little.
Store the tart in the fridge and once cold cover it with the whipped cream with the icing sugar.
Catering Iria Castro https://www.iriacastro.com/