Good morning
We are already a speck of beginning to enjoy the weekend so I leave this delicious recipe of orange, almonds and olive oil. This cake is exquisite, very juicy and humid thanks to the oil and almonds and with a lot of flavor because the orange will boil and then we'll mash. Well, the best thing is to follow the recipe and you will see that exquisite!
Kisses and Happy Friday!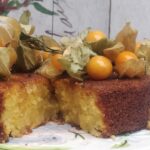 Orange olive oil cake
2019-01-11 07:40:29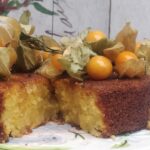 Serves 10
To prepare the sponge cake
1 orange juice with pretty skin
1/2 lemon juice
220 ml olive oil
3 eggs
210 gr Golden sugar
220 ml olive oil
120 gr Polenta
200 gr ground Almond
5gr baking power
A pinch of salt
For rosemary Syrup
4 rosemary Branches
100 gr golden sugar
40 ml water
1/2 Orange and 1/2 lemon juice
5-cardamom Seed
Instructions
To prepare the sponge cook the whole orange for 30 minutes in boiled water. The orange must be well covered with water .Remove the orange from the water and let it cool.
Cut the orange into 6 pieces and add the 1/2 lemon juice. Mash thoroughly.
Whisk the 3 eggs and sugar in a bowl for 5 minutes. When the set is very spongy, gradually add the oil to the medium speed with the electric rods in fine thread. This way we will get a perfect emulsion that will remind us of a mayonnaise.
Then add the orange puree and finally add the 3 dry ingredients, a pinch of salt and beat for 1 minute more.
Pour the preparation into a 23 cm pan previously oiled with a little oil.
Bake at 180 º C for 55 minutes.
Meanwhile prepare the syrup combine the ingredients to the fire.Bring to the boil, stirring until the sugar has disolved.
Remove the cake from the oven and let it cool down in the mold for 20 minutes. Flip over a grille and skewer the surface. Pour the syrup over it and let it rest.
Serve with natural yogurt.
Catering Iria Castro http://www.iriacastro.com/