Good night
Here I leave the recipe of this wonderful bundt of spices.
I have nothing to tell you about this Bundt, try please and you will see that lovely!!
Kisses and Happy night!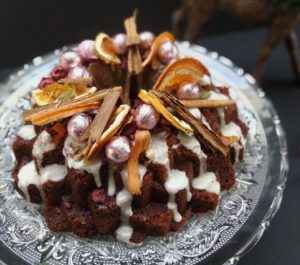 Spiced bundt
2018-11-17 20:53:41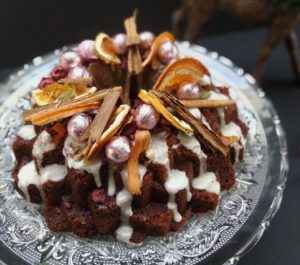 Serves 12
To prepare the Bundt
245 gr. very soft butter
250 gr Brown sugar
150 gr ground Almond
5 médium eggs
100 gr self raising flour
1 tsp baking power
seeds from 6 cardamom pods
2 tsp Ground cinnamon
1 tsp. Ground coriander
1 tsp Ground cloves
1/2 tsp. Ground Nutmeg
For the whisky syrup
100 ml whisky
35 ml honey of flowers
1 lemon juice
For the icing sugar
140 gr icing sugar
Orange juice
Drops of whisky
Decoration to taste
Preparación
Preheat the oven to 180 º C.
In the blender bowl, work the butter with the sugar for several minutes.
Add the eggs one by one and finish adding all the dry (flour, almond, spices...). Mix very well.
Pour the mixture into the prepared tin and bake for 45 minutes approx.
Remove from oven and allow to cool in the mold for 15 minutes. Remove from the mould and let the bundt cool down on a grate.
Meanwhile put to boil the honey, the lemon juice and whisky.
Leave to fire for 1 minute. Pour the syrup on the surface of the Bundt, is very important that the Bundt absorbs it well!!.
Prepare the icing sugar, mix the icing sugar in a bowl with the orange juice and the whisky.
Lightly cover the Bundt with the mixture and decorate to taste.
If you don't want to do it with whisky, remove the alcohol for orange juice.
Adapted from Iria Castro
Adapted from Iria Castro
Catering Iria Castro https://www.iriacastro.com/