The Paulova is one of my favorite desserts!
So much so that this year for Christmas I will prepare a roulade of meringue filled with whipped cream and with this delicious compote of red berries that today I will teach you to do.
The Paulova is a very shiny cake and you can do what you like. Any fruit is good, chocolates, mousses…
Today's is exquisite and very Christmas. I hope you like it.
Happy Sunday afternoon!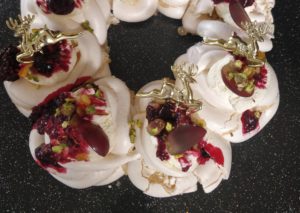 Red fruit compote, pistachio paulova
2018-11-09 06:53:20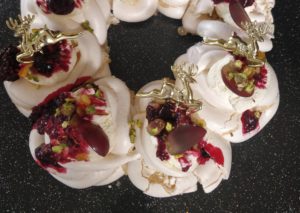 Serves 10
To prepare the Paulova
5 egg whites
A few drops of white wine vinegar
2 C.S.cornflour
270 gr sugar
The fruit of 1 vanilla bean
To prepare red fruit compote
300 gr of red fruits (blueberries, currants and frozen raspberries)
50 ml orange juice
A pinch of ground clove
100 gr sugar
1 C.S. Cornstarch
For whipped cream
300 ml double cream
65 gr icing Sugar
Vanilla extract
Extras
Assorted candied fruits, chopped green pistachios, mint....
Instructions
Preheat the oven to 110 º C.
Whisk the egg whites in the cooking robot with a few drops of white wine vinegar. Gradually add sugar mixed with cornstarch and vanilla fruit. We must get some very bright and very well-assembled whites.
Insert the set into a pastry sleeve with smooth nozzle and wide mouth.
Bowl 8 circles in the shape of a crown and with a hollow in the center on a baking tray lined with baking paper.
Oven for 1 hour. Turn off the oven and leave the meringue another hour in the oven off.
Meanwhile prepare the red fruit compote.
Put the frozen red fruits, orange juice, sugar and a pinch of cloves to the fire. Leave for 15 minutes on medium heat, stirring occasionally.
We must get a red fruit compote but do not completely undone the fruits and reduce the juice.
After 15 minutes add the cornstarch that we have dissolved in a little cold water.
Mix in the fire, let it boil for a minute and set aside. Let it cool down.
Mount the cream with the sugar and vanilla extract and place in a pastry sleeve.
When assembling the Paulova, fill each dry meringue with the whipped cream. On each meringue, have 1 tablespoon of the delicious red fruit compote, finish by adding the chopped candied fruit and the chopped pistachios.
Decorate to taste.
Catering Iria Castro https://www.iriacastro.com/