I'm sure you're going to love it.
Good afternoon, today's recipe cannot be easier. I'm going to prepare a very original appetizer.
What do you think if we combine parsley, mint and feta cheese? Well that's what I've done and the result is wonderful.
This appetizer you can freeze before frying and I remind you that you must fry it while frozen.
Kisses and until tomorrow!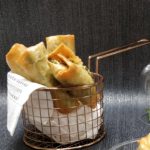 Feta cheese and mint cigarettes
2018-06-12 07:13:55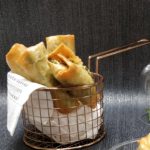 Serves 24
For filling
250 gr Feta Cheese
A bunch of mint leaves (small bunch, from those that come in bags)
Half a bunch of parsley leaves
Sunflower oil
Butter
4 sheets of Philo Pasta
Preparación
The first thing to do is to lightly shred the feta cheese into the cooking robot.
On the other hand chop the mint and parsley.
Add the herbs to the cheese and continue shredding in the cooking robot.
Do it at 5-6 times, at intervals, stoping the robot.
When it is well mixed pour the cheese into a bowl and proceed to make Philo's cigarettes.
Stretch a sheet of philo paste on the work table.
Brush with a little melted and cold butter and arrange another sheet on top.
If Philo blades are large, cut the blades into 12 squares.
Arrange on one side of each sheet a little filling and wrapping in cigarette form (as if we were making spring rolls).
Seal the cigarettes with a little water and reserve them until the time to serve on a tray covered with transparent film in the fridge.
When it comes to serving heat abundant oil. When it reaches 180 º C approx Fry the cigarettes of Philo until browning them on all sides.
Remove from heat and place on a tray with a kitchen blotting paper.
After 2 minutes, put them in the display tray and they will be ready to serve.
Enjoy it, are very special!
Adapted from Foolproof recipes
Adapted from Foolproof recipes
Catering Iria Castro https://www.iriacastro.com/