It will seem strange to see in a picture of cooking so many dinosaurs but everything has its explanation.
This caramel cream my kids love, especially Manolito and the day I was doing the photo Manu was with me in the kitchen playing with her dinosaurs. He came up to me and asked me, Mom, you let the dinosaurs out in your picture, and I answered, of course!!!
Here's the picture. I love you very much Romanito.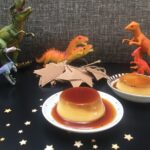 Caramel cream
2019-05-22 07:07:30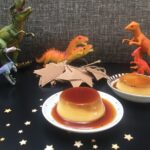 Serves 4
To prepare the caramel cream
4 egg yolks
300g sugar
500ml milk
Vanilla extract
60ml water
A few drops of Grand Marnier (optional)
Preparación
Preheat the oven to 175 º C.
Beat the 4 egg yolks with 100 g of sugar with the help of the electric mixer.
Meanwhile put the milk to boil. Add little by little on the sugar-mounted buds. Strain and pour the cream into a saucepan and put on the fire.
With the help of a wooden spoon, do not leave to stir the cream, over medium heat until it starts to catch body. It can't boil!
When the cream lightly covers the wooden spoon, remove it from the heat, strain again and add the vanilla extract and the liquor if you are going to put it on.
With the rest of the sugar and water prepare a golden caramel.
Pour the caramel into the selected Flan-type containers.
Allow to cool for 10 minutes.
Finish by adding the cream to each mold.
Bake in the Bain-marie for 15-20 minutes. Remove from the oven, allow to cool and reserve in the refrigerator.
Enjoy it, they're divine!!!
Catering Iria Castro https://www.iriacastro.com/