This delicious recipe is from the book of the unforgettable Mey Hofmann.
I prepare it my way but the idea of combining cockle, parmesan and pasta has been of Mey. Your recipes are wonderful!
See you tomorrow.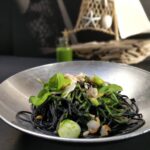 Spaghetti with cockle and basil oil
2019-01-30 19:17:50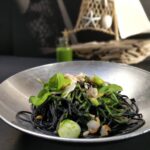 Serves 4
Ingredients
280 g black Spaghetti
500 g cockle
Laurel
For Basil Oil
A bunch of basil
A bunch of parsley
40 g grated Parmesan
200 ml olive oil
30 g ground Almond
A pinch of garlic
Salt, white pepper
20 Peeled Prawns
shavings of Parmesan cheese.
20 g toasted pine nuts 8 mozzarella Pearls
Small Shrimp Bottom
300 g of heads and body of prawns
Olive oil
2 cloves of garlic in pieces
50 ml brandy
1 c. s chopped parsley
Water to cover.
Preparación
Wash the cockle thoroughly in cool water. Cook them once steam-washed with laurel leaves and a splash of water. The moment they begin to open, remove from the fire and withdraw from their shell.
Reserve the cockle covered with the cooking water.
Prepare the basil oil by whitening The leaves of the herbs, refresh, dry very well and mash all the ingredients by gradually adding the oil.
Insert the mozzarella in the oil and reserve until the time to serve.
To prepare the prawn bottom in a saucepan heat the oil, add the cloves of garlic and then the heads and shells of the prawns.
Fry the whole until the kitchen smells like a beach bar. At that time add the brandy, flambé and then add the chopped parsley. Finish covering with water and let boil 15 minutes approx.
Strain.
At the time of serving to cook the pasta (per 1 liter of water-10 g salt) leaving it al dente.
Sauté the prawns A was
Adapted from Iria Castro
Adapted from Iria Castro
Catering Iria Castro https://www.iriacastro.com/