Good afternoon, Today's recipe is a classic but a true classic !! It is one of the best dishes in our kitchen and doing it well does not cost any work. Here I leave you my recipe and in the video you will see that I do not put peas, asparagus and carrots but in the recipe that I give you I have added them! Enjoy the recipe and have a good weekend!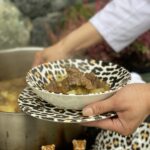 Beef stew
2020-04-04 19:10:53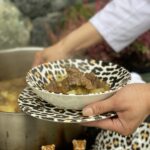 Serves 8
To prepare the meat stew
1.5 kg needle, round or chopped veal fish for braising
olive oil
salt and black mill pepper
1 onion
1 carrot
1 leek
3 garlic cloves
1 celery stick
rosemary, thyme, sage
100 g mushrooms
3 l meat and poultry stock
To end
150 g peas
3 carrots, peeled and diced
16 green asparagus tips
8 large Kennebec potatoes
Chopped parsley.
Preparación
Preheat the oven to 140-150ºC.
Season the meat and mark it in a good diameter pot with olive oil.
Once sautéed and with a beautiful golden color add all the very finely chopped vegetables and aromatic herbs. Leave on the fire for 10 minutes and finish adding the chopped mushrooms, leave for 10 more minutes and finish covering with the broth.
Let the stew boil and then cover with albal aluminum foil.
Enter the oven at 140ºC for 2 hours. Check before removing from the oven that the meat is tender.
Put the casserole on the fire and finish the stew adding the crushed potatoes and the peeled and chopped carrots. Stir and boil over medium heat for 30 minutes. 10 minutes before finishing cooking add the peas and the asparagus tips.
The potatoes and carrots will be whole and very tender !!
Add chopped parsley and add if necessary to a point of salt.
Enjoy it, it's delicious !!!!!
Catering Iria Castro https://www.iriacastro.com/