Few things I can like more than focaccias!
You can make them from anything but the focaccia dough has to be delicious!
The recipe I bring you today is delicious, hazedla calmly and respect the fermentations.
Today I made her cherry tomatoes roasted with cottage cheese and lots of rosemary.
I hope you like it!
Bss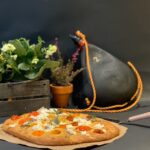 The focaccia
2020-01-08 18:20:50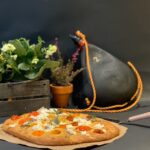 Serves 6
Basic Focaccia Dough
225 ml water at room temperature approx 26ºC.
4 gr dry yeast
55 ml olive oil, Bronze and Mora Picual
385 g strong white bread flour
salt
To conclude, the following
150 g cottage cheese
salt Maldon
Cherry tomatoes assorted
Romero
Olive oil Virgen Bronze and Mora Picual
Preparación
In a bowl beat the water and the yeast. Wait 30 seconds and beat again and add the oil.
Gradually add the flour and mix with a rubber spatula.
Arrange the bowl in the kitchen robot and with the kneading tool work the dough for 3 minutes. Stop kneading and let the dough stand for 15 minutes.
Knead the dough again and add the salt and work for another 3 minutes. Brush the dough with a little oil and cover with transparent film. Leave to stand for 45-60 min.
Meanwhile brush a 15X22cm baking tray with virgin olive oil.
Remove the film from the dough and cover the hands with oil so that the dough can be easily removed from the bowl.
Put it into the oven tray and with the aid ofInsert it into the baking tray and with the help of your fingers press down to shape it.
Brush the dough with oil and cover with film.
Ferment again for 35 minutes.
Remove the film and mark the seal dough with your fingers. Place in the oven at 220ºC for 20 minutes. Lower the oven to 190ºC and spread the cherry tomatoes on top, rosemary and salt Maldon. Leave 20 minutes more.
Remove from oven and still warm spread goat cheese on the surface and serve hot.
Catering Iria Castro https://www.iriacastro.com/