Good afternoon,
How was your weekend?, I hope you had a good time.
As there is a week less for Christmas celebrations, today I want to give you the recipe for this biscuits which are ideal for the welcome drink.
We will make some cheese biscuits and some special dried fruits that are delicious.
If you follow the recipe you won't have any problems and they'll be all exquisite!
Kisses and Happy week!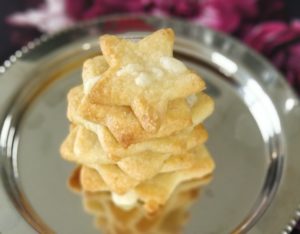 Cheese Biscuits
2018-11-04 19:33:03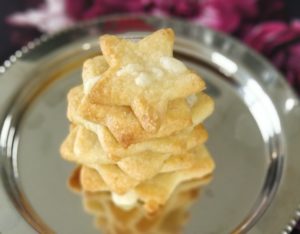 Serves 35
To prepare cookies
110 gr Creamy goat cheese (soft)
50 gr grated Parmesan cheese
175 gr Flour
125 gr softened butter
Black Pepper
Salt
Preparación
In a cooking robot process the butter with 35 gr of grated Parmesan cheese, goat cheese, a pinch of salt and black pepper.
Then add the sieved flour and re-process.
Remove from the cooking robot and work for a few seconds to form a ball on the work table.
Wrap the dough with film and reserve for at least 2 hours in the refrigerator before making the biscuits.
At this point in the process the dough could freeze.
When making cookies
With the help of a roller, stretch the cheese dough to 2cm thick. With the help of a short pasta make the cookies. I have chosen different sizes, small and medium of short pasta in the form of stars, I love!
Place the biscuits on baking paper and sprinkle on each grated Parmesan cheese.
Bake for 12 minutes, you will see how it browns.
Remove from oven and reserve on a grate until completely cool.
They are preserved for 2 days in a
Adapted from Iria Castro
Adapted from Iria Castro
Catering Iria Castro https://www.iriacastro.com/