Good afternoon
Today I want to share with you this special and exquisite recipe of my duck magret burgers.
They can not be richer and with the cream of mustard, caramelized onion and a little foie are crazy.
Why don't we prepare them this Christmas?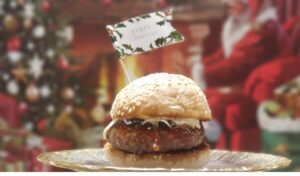 Duck burger with mustard cream and caramelized onion
2018-12-06 04:07:53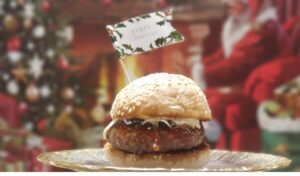 Serves 8
To make steamed buns
500 Grs of flour
10 Gr salt
30 Gr sugar
20 GrBaker's fresh yeast
1 egg
250 ml milk
100 Gr Butter
White Sesame
To make the burgers
1 kg Duck Magret
30 g grated onion
40 g of bread crumbs soaked in milk
Salt and pepper
Caramelized onions
1 kg thick julienned onions
150 gr brown sugar
Salt, laurel and thyme.
150 ml olive oil
To prepare the cold mustard cream
150 gr Greek yogurt
150 gr mascarpone
100 gr Dijon mustard
Black pepper and chopped fresh tarragon
Fresh foie scallops.
Sal Maldon
Preparación
Preheat the oven to 225 º C.
To prepare muffins
Mix all ingredients except butter and sesame. Work until the dough has elasticity.
Then add the butter ointment and knead 3 minutes more.
Rest the dough covered with a kitchen cloth 1 hour at about 30 º C.
Once fermented, bowl the dough in portions of 55 GRS and brush the surface with water so that the sesame is glued to the dough.
Allow to ferment again until the volume is doubled and bake at 225 º C with 70% humidity about 7 minutes. Set aside and reserve.
To prepare the burgers remove the skin to 2 magret of duck and be left to one.
Go through the mincing machine with the coarse blade. Mix well with the rest of the ingredients and make burgers of 140 grs/ration.
Put all the ingredients together in a pot to make the onion less the sugar. Simmer covered. After 15 minutes, uncover and add brown sugar and caramelize. Book to useSlow-plugged. After 15 minutes, uncover and add brown sugar and caramelize. Book until use.
To prepare the cream mix the yogurt with the mascarpone and the mustard in a bowl and work with the rods until it is creamy. Season and add the chopped tarragon. Reserve on a pastry sleeve until the time of use.
.
When it comes to serving, make the burger in a frying pan. Leave it little done, rest.
Mark a escalope of foie on the plate, season.
Brown the breads open in half in a frying pan with a little olive oil.
In one of the halves arrange a spoonful of mustard cream, on this the hamburger, the onion and finish with the foie.
Serve with a bowl of mustard cream because sure to be put more, is delicious!
Adapted from Iria Castro
Adapted from Iria Castro
Catering Iria Castro https://www.iriacastro.com/