Hello friends,
Since you have begun the week?, I wait that very well.
To encourage little today I you bring a recipe that is spectacular!!!!. Indeed, do not stop doing it because it is going to be charmed with you.
It is ideal to serve it as inlet to share or even as appetizer. Only it has a problem!, that you must do many prawns because the whole world will want to repeat. When you try one already you cannot stop eating, they are a real vice!.
Them to wet in the mayonnaise that we are going to prepare Cajún with a spicy point and already you will see, vais to hallucinating!. Simply delicious!!!
The mixture of spices cajún gives to the plate peculiarly and exquisite flavor. The culture cajún comes from the first French-speaking settlers, known like "acacianos", that settled themselves in Nova Scotia and New Brunswick, in Canada. In the 18th century, on having been removed by the Britishers, they went towards the south up to coming to the colonies of Louisiana.
The cajunes are the descendants of the Frenchmen who were living in the Acadia (in the border between(among) Canada and The United States), and they were deported to Louisiana.
The kitchen(cuisine) cajún was born of the need. The refugees, principally farmers impoverished by the British expulsion, had to learn to adapt his traditional French food to the autochthonous species where they were living: the rice, the crab and the sugar cane. Besides the obvious French and Canadian influence, the kitchen cajún suffered the African and Amerindian influence.

And now we go with the recipe, kisses!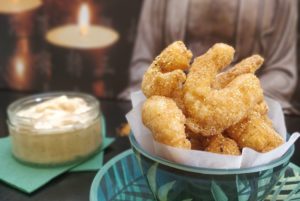 Cajun prawns with mayonnaise spice
2018-09-03 08:30:31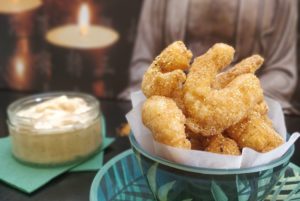 Serves 4
To prepare the prawns
24 prawns average size peeled and without gut
275 ml Buttermilk
To muffle
130 gr polenta
130 gr cornflour
20 gr English mustard in powder
1 c.s. Cajún seasoning
Salt
For the mayo
150 ml May
A few drops of hot sauce
2 c.s. Cajún
The juice of 1/2 lime
Preparación
The first thing that we must do is to mix very well in a deep tray everything dry, the polenta, cornflour, Cajún and the mustard.
On the other hand to have in a bowl the Buttermilk and to remove it with a rod.
Part(Report) to introduce of the mellow and clean well prawns in the buttermilk, to cover them very well and little by little to go withdrawing them and placing them on the tray of the dry thing (polenta ...).
To muffle them very well, instead of holders use to help yourself to muffling them you must move the tray of side to side strongly and hereby you will still have them perfectly covered.
To stop muffling all the prawns and frying(annoying) in oil of warm well sunflower up to gilding lightly and achieving that they remain creaking well.
Certainly, it is very important that once muffled you cook!! Dont leave them any more than 20 minutes without frying because the muffled one gets wet. The better thing is to muffle them and to fry them!!
To mix all the ingredients of the Mayo and the point rectifies if it was necessary of spicy, Cajún and lime.
To accompany with the Mayo and to prepare yourself to enjoy and dream!!

Adapted from Iria Castro
Adapted from Iria Castro
Catering Iria Castro https://www.iriacastro.com/