This recipe for hake in green sauce is different from the hake in green sauce of a lifetime.
Working in the Zuberoa restaurant, the best "cooking school" where the state is, towards a hake in a green sauce emulsifying with a lot of garlic, parsley and a good olive oil the delicate and wonderful jelly of the hake. It took time but the result was exquisite !!
Today's recipe is different but it is good too. It is easier to prepare, we will add a lot of garlic, parsley and we will prepare a fish fumet (fish broth). With it we have an exquisite green sauce.
I learned this recipe at the Cabo Mayor restaurant in Madrid and it is ideal to serve at large events.
Follow the video and the recipe and you will see that hake in sauce green so special you are going to prepare! Kisses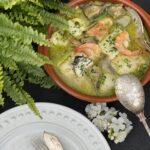 Hake in green sauce
2020-03-28 19:47:10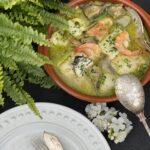 Serves 4
o prepare the hake in green sauce
4 slices of hake or supreme (spineless loin) of 160 grams / serving
Salt
To prepare the fish fumet
Thorns and hake head well cleaned
1 onion
1 carrot
1/2 leek
parsley stalks
1 celery stick
4 garlic
For the green sauce
A bunch of parsley
1 head of beautiful garlic
Olive oil
3 c.s flour
1,200 ml fish fumet (approx)
Salt
To end
Chopped parsley
4 cooked artichokes
4 green asparagus
75 g peas
8 shrimp, peeled and headed
4 young garlic
Preparación
Prepare the fish fumet (white and transparent fish broth) with the bones, head and vegetables. Boil maximum 20 minutes, if it boils more it can become bitter!
Strain and reserve. NO salt!
Prepare the green sauce by placing olive oil in a pot. At the time it reaches temperature, add the broken garlic head, cut into pieces and with skin (see video).
Leave it on the fire until it begins to take color, not much, that it begins to brown and at that moment we must add the parsley with the stem included and cut abruptly.
Saute the parsley, which takes on a nice and strong green color, add the flour, stir for 30 seconds and finish adding the fish stock little by little. Find the desired thickness point.
Boil over medium heat for 5 minutes. Bring to the point of salt, strain UNSPRESS and reserve.
Cook the artichokes, cut the asparagus, the garlic sprouts and peel the prawns leaving the head.
To prepare hake in green sauce (follow explanation of the video)
In the chosen casserole pour the necessary green sauce. Add the hake fillets seasoned and skin side down. Boil over medium heat for 5 minutes, add the asparagus and garlic, leave for a couple of minutes, add the peas, the cooked artichokes and the prawns and leave for 5 more minutes. Add salt if necessary and set aside.
When serving, add freshly chopped parsley.
Catering Iria Castro https://www.iriacastro.com/