Good morning
Today I want to wish you a happy day with this recipe of so simple and exquisite mousse of lemon.
This mousse of lemon is of better that I have tried. Instead of using scum mounted to give him sponginess I am going to do a French meringue ( mount whites of egg with sugar). Hereby I will manage to give him a lot of air to the mousse and elegance. In this case I have prepared the mousse to serve it in the tablecloth accompanying to the coffee and to the glasses and there have gone out for me 15 glasses of 50ml.
It remains for 48 hours in the freeze , not more, on having taken meringue is delicate!.
I hope that you me like so much like!
Kisses.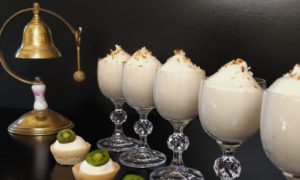 Special mousse of lemon curd
2018-09-18 08:05:36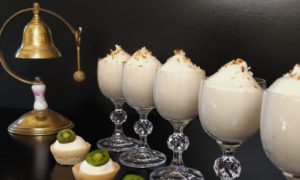 Serves 15
To prepare the mousse of lemon
90 ml juice of lemon + 50 gr sugar
80 gr butter
grated rind of 2 lemon
3 eggs (150 gr) + 75 gr sugar
6 gr of gelatine
150 gr whites of egg + 75gr sugar
Dehydrated brown coconut
varied mini fruits...
Preparación
To set to boil 50 gr of sugar with the juice of lemon and the grated rind.
Since itbegins to boil calculate 2-3 minutes (it is important that the sugar dissolves).
Meanwhile mount the eggs with 75 gr of sugar.
Mix both preparations and to cook to the fire moving with help of a rod preventing at all time it from fighting up to be cooking to 85ºC.
That is to say, when the cream of lemon wants to start to boil separate rapidly of the fire and add 3 tails of gelatine before hydrated and drained and mix very well. Strain the cream of lemon on a bowl and allow that it should lose temperature approximately 5-10 minutes and in this moment with help of a few electrical rods adding dice of butter little by little up to mixing very well.
Mount the whites of egg with the 75 gr of sugar. Remember that you must go adding the sugar little by little.
When the cream of lemon has a bit of body and IS NOT WARM to add in three times the meringue, little by little and with smoothness in order that the mousse should not go down.
Introduce the mousse in a sleeve pastelera with smooth mouthpiece and to arrange it in the small glasses or chosen bowls.
Reserve in the freeze 1 hour before serving.
At the moment of serving to add creaking coconut above or varied fruits.
Adapted from Le Notre
Adapted from Le Notre
Catering Iria Castro https://www.iriacastro.com/