Chow Mein is a Chinese dish based on high-heat sautéed noodles and very fast of which there are many variants.
It usually contains vegetables, meat portions and even prawns.
The Chow mein sauce is made up of chicken broth, soy bean sauce and oysters and is linked with a little cornstarch.
Well, let's go with the recipe…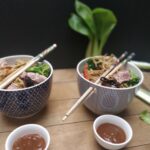 Noodles Chow Mein with duck and vegetables
2019-01-21 06:22:03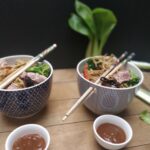 Serves 4
Ingredients
250 g egg noodles
2 tbsp sesame oil
2 breast of Duck
2 tbsp finely chopped garlic
50g mangetout, trimmed
20 ml light soy sauce
25 ml dark soy sauce
salt
freshly ground white pepper
4 finely chopped spring onions
40 ml sesame oil
For the marinade
30 ml light soy sauce
20 ml dark soy sauce
1/2 tsp. 5 spiced chinessse
3 tsp. cornflour
salt
freshly ground white pepper
Preparación
Cook the noodles by boiling them for 3-5 minutes in a pan of boiling water.
Drain and put into cold water, drain again then toss with a little sesame oil.
Using a cleaver, slice the duck into fine shreds.
To marinate the duck, combine with the light soy sauce,dark soy, cornflour and 5 spice, salt and pepper in a small bowl. Mix well and leave to marinate for 20 minutes.
In a wok until it is very hot add oil and, when it is very hot and slightly smoking, add the duck.
Stir-fry the mixture for about 3 minutes, then transfer to a plate.
Reheat the wok, and add more oil. Add the garlic and stir-fry . Add the mangetout.
Add noodles, light soy sauce, dark soy sauce, rice wine, salt and pepper, the sugar, the peepers, mini corn and spring onions and continue to stir-fry for two minutes.
Return duck to noodle mixture.
Continue to fry for 3-4 minutes.
Stir in sesame oil, and give a few final stirs.
Turn onto warm serving platter and serve
Adapted from Iria Castro
Adapted from Iria Castro
Catering Iria Castro https://www.iriacastro.com/