You can not imagine how good these pears!
I prepared them days ago to accompany a cream of caramel and the leftovers I served with a glass of wine, various cheeses and salted crackers.
I have used mini pears here in England you have them in all supermarkets but if you do not find them with normal pears.
The conference would be very good!
Happy day!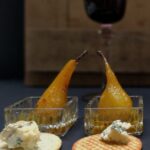 Saffron and vanilla pears
2019-01-24 04:54:34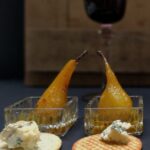 Serves 6
Ingredients
12 baby pears, peeled and with yellowfin
8-10 strands of saffron
4 star anise
7 cardamom seeds
1 Open and torn vanilla pod
200 gr sugar
Preparación
Put all the ingredients less the pears in a saucepan of 18 cm in diameter approximately to the fire with a 1 litre of water. When boiling, let the sugar completely dissolve and then add the peeled pears.
Pears should be covered by water.
Cover the pears with baking paper to avoid that the pears when they rise to the surface are in the air.
Lower the fire a little and let the pears cook for 40-50 minutes approx.
It is very important to check the cooking point of the pears. They must be cooked but always with their shape and whole.
Throughout the cooking realize as pears are taking a golden color.
Remove the pears from the fire, let cool in your syrup and store all night in the fridge.
When using the pears Remove 250 ml of syrup and put it to the fire to reduce slightly. Remove from the heat and reserve until use.
When using the pears remove them from the syrup of cooking and introduce the pears that you go to serve in the reduced syrup, move them very well and you will have ready to serve.
You can bring to the table reduced syrup to pour a little over the pears.
They are ideal to serve with sweet and salty!!!
Adapted from Iria Castro
Adapted from Iria Castro
Catering Iria Castro https://www.iriacastro.com/