[:es]No os podéis ni imaginar como están de buenas estas peras!!
Las preparé hace unos días para servir con un postre y las que me sobraron las tomamos con una copa de vino,distintos quesos y galletitas saladas.
Madre mia, no es por ser chulita pero triunfé asi que en vista del éxito comparto la receta.
Yo he utilizado peras mini que aquí en Inglaterra las tienes en todos los supermercados pero si no las encontráis hacedlo con peras normales.
Las conferencia estarían muy bien!!
Feliz día!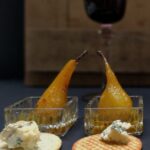 Peras en almíbar con vainilla y azafrán
2019-01-24 05:21:08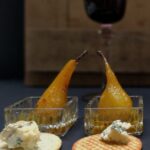 Serves 6
Ingredients
12 peras baby, peladas y con el rabito
8-10 hebras de azafrán
4 estrellas de anís
semillas de 7 cardamomos
1 vaina de vainilla abierta y rasgada
200 gr azúcar
Instructions
Disponer todos los ingredientes menos las peras en un cazo de 18 cm de diámetro aprox al fuego con un litro de agua. Cuando rompa a hervir dejar que se disuelva por completo el azúcar y en ese momento añadir las peras peladas.
Las peras deberán quedar cubiertas por el agua.
Tapar las peras con papel de horno para evitar de esta manera que las peras cuando suban a la superficie estén al aire.
Bajar un poquito el fuego y dejar cocer las peras durante 40-50 minutos aprox.
Es muy importante ir comprobando el punto de cocción de las peras. Deberán quedar cocidas pero siempre con su forma y enteras.
A lo largo de la cocción comprobaréis como las peras van cogiendo un color dorado.
Retirar las peras del fuego, dejar enfriar en su almíbar y guardar toda la noche en la nevera.
Cuando vayamos a utilizar las peras retirar 250 ml de almíbar y ponerlo al fuego a reducir ligeramente. Retirar del fuego y reservar hasta utilizar.
A la hora de utilizar las peras retirarlas del almíbar de la cocción e introducir las peras que vayáis a servir en el almíbar reducido, moverlas muy bien y ya las tendréis listas para servir.
Podéis llevar a la mesa almíbar reducido para verter un poquito por encima de las peras.
Son ideales para servir con dulce y con salado!!!
Adapted from Iria Castro
Adapted from Iria Castro
Catering Iria Castro https://www.iriacastro.com/
[:en]
You can not imagine how good these pears!
I prepared them days ago to accompany a cream of caramel and the leftovers I served with a glass of wine, various cheeses and salted crackers.
I have used mini pears here in England you have them in all supermarkets but if you do not find them with normal pears.
The conference would be very good!
Happy day!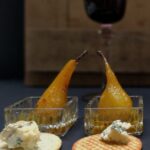 Saffron and vanilla pears
2019-01-24 04:54:34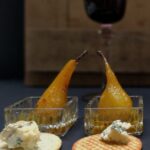 Serves 6
Ingredients
12 baby pears, peeled and with yellowfin
8-10 strands of saffron
4 star anise
7 cardamom seeds
1 Open and torn vanilla pod
200 gr sugar
Instructions
Put all the ingredients less the pears in a saucepan of 18 cm in diameter approximately to the fire with a 1 litre of water. When boiling, let the sugar completely dissolve and then add the peeled pears.
Pears should be covered by water.
Cover the pears with baking paper to avoid that the pears when they rise to the surface are in the air.
Lower the fire a little and let the pears cook for 40-50 minutes approx.
It is very important to check the cooking point of the pears. They must be cooked but always with their shape and whole.
Throughout the cooking realize as pears are taking a golden color.
Remove the pears from the fire, let cool in your syrup and store all night in the fridge.
When using the pears Remove 250 ml of syrup and put it to the fire to reduce slightly. Remove from the heat and reserve until use.
When using the pears remove them from the syrup of cooking and introduce the pears that you go to serve in the reduced syrup, move them very well and you will have ready to serve.
You can bring to the table reduced syrup to pour a little over the pears.
They are ideal to serve with sweet and salty!!!
Adapted from Iria Castro
Adapted from Iria Castro
Catering Iria Castro https://www.iriacastro.com/
[:]