Good night
This beautiful and elegant dish is divine! I prepared it in my cooking school years ago on a Christmas course that taught and the truth is that it was a success. So much so it's one of my favorite fish recipes.
You can do it with monkfish, you will be delicious too but I personally love me with sole, in the form of popietas and garlic butter, parsley and dill molten on them is something that can not be explained in words. I invite you to do it and enjoy it!
Happy week.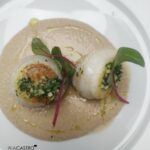 Popietas of sole with mushroom sauce
2019-03-10 07:13:26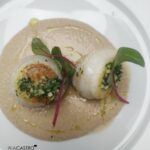 Serves 4
Ingredients
2 soles of 700 g approx or 1 of 1,400 g
Salt and white pepper
Olive oil
Lemon juice
Garlic butter
100 gr Butter
2 very chopped garlic cloves
Fresh parsley and dill
Boletus edulis sauce
200 gof dried fungi already hydrated
40 g Butter
100 g well-chopped shallots
100 gfresh mushrooms or varied mushrooms
200 ml Martini White
400 ml chicken Broth
400 ml of cream
20 gr Chives
Salt and white pepper
Lemon juice
Preparación
Preheat the oven to 190 º C.
The first thing to do is to hydrate the dried mushrooms in very hot water for 30 minutes.
Drain and reserve part of the water.
On the other hand melt the butter in a pot to the fire with a little oil, add the chopped shallot and poach.
Add the chopped boletus and hydrated mushrooms well dry.
Cook the set about 12 minutes. They should take color!
Deglaze with the martini and reduce to almost dry.
Add white bird bottom and halve over medium heat.
Finally add the cream and leave to the fire until we get a texture of syrup (30 minutes more aprox)
Add the chopped chives, remove from the heat and leave to infuse 1 hour.
Put salt and pepper in place and strain.
If it is necessary to put the fire back to take body and if you were thick add a little of the water that we will have reserved to hydrate the dried mushrooms.
When serving, remove the skin from the soles. Separate the fillets and with them make popietas with the help of a toothpick. (Ask the fishmonger to prepare the sole fillets)
Season and mark them in a frying pan with a little olive oil.
Finish in the oven at 190 º C for 7 minutes with a garlic butter nut in each popieta.
On the plate dispose of Boletus edulis sauce in the center of the dish and 2 popietas per person (depending on size). Finish the dish with a few drops of virgin olive oil and blackberry variety Picual.
Catering Iria Castro https://www.iriacastro.com/