Of the best dishes in the world !!! At home we love octopus and prepared "a feira" is our favorite.
It is very important to buy an octopus of more than 2 kilos. The octopus has a lot of waste and if you buy it by the kilo, once cooked you will find a ridiculous pulpit of 400 grams. The octopus in the video weighed 3,350g and is perfect for 6 people. The potatoes I use are cachelos of the Kennebec variety.
Paprika has to be wonderful just like virgin olive oil. If you have chopsticks use them to take the octopus, it is the best way to take it !!
Enjoy it, it's delicious !!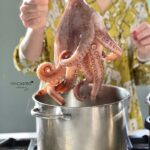 Delicious octopus
2020-05-04 16:06:17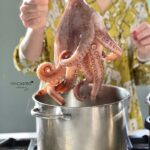 Serves 6
To prepare the octopus
1 octopus of 3 kg weight
1 onion
3 bay leaves
To end
12 Kennebec potatoes
Virgin olive oil
Fat salt
chopsticks
sweet and sour paprika
hot paprika
Preparación
Arrange a large pot full of water on the fire.
Add 1 onion and bay leaves.
Thoroughly wash the octopus under the cold water tap. Clean the tentacles and suction cups very well.
At the moment when the water starts to boil add the octopus and put it in three times (SEE VIDEO). Calculate approx 20 minutes per kilo of weight.
Prick the octopus very close to the mouth with a skewer, where the tentacle is thicker and if the skewer fits correctly, it is already in place.
Remove from the water and arrange it as in the video on a soup plate. In this way the octopus will maintain its shape.
In a bowl mix 3 c.s. sweet and sour paprika and 1 hot paprika. With this mixture we are going to season the octopus
Catering Iria Castro https://www.iriacastro.com/

Kisses