Today I want to say good morning to you with this recipe a bit elaborated of my springs rolls.
They are the richest and sure that you will do very often because though they give little work they are worth it.
To accompany use soy sauce or my sweet and sour sauce, with leaves of lettuce, coriander and a few leaves of mint and already you will see that delight.
Kisses and on happy Wednesday!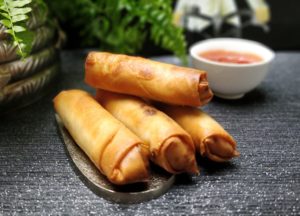 Spring rolls
2018-09-13 07:03:07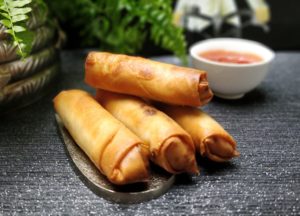 Serves 20
Ingredients
150 gr Boletus Edulis , Portobello chopped
400 gr of meat of pork and chopped beef
15 cooked and chopped prawns.
1 grated very thin carrot.
400 gr of cabbage in thin strips
1pimiento green Italian in thin strips.
The white of 1 leek in thin strips.
1 bad onion.
80 gr outbreaks of soybean.
Salt and white pepper.
1/2 c.c. Sweet paprika.
Sauce of soybean.
Olive oil
Pasta philo
Sweet and sour sauce to accompany
150 ml vinegar of white wine.
150 gr sugar.
80 ml soy sauce
1 red tomato without skin and without pips and chopped (optional)

Preparación
In a frying pan with olive oil sauté the onion. In the moment that is helped well to add the cabbage.
In another frying pan with little olive oil to attack the vegetables, the carrot, the leek and the green pepper.
When the vegetables are attacked well to add the outbreaks of soybean and mix and finally add a bit of soy sauce and sweet paprika . To design of salt.
To attack the chopped Boletus and later add the meat. Leave a couple of minutes to the fire. To ripen and before withdrawing of the fire to incorporate the bad prawns.
Mix in a bowl all the preparations..
At the moment of fulfilling the spring rolls put 2 or 3 caps of pasta since this one.
Put the landfill above, aprox 2 soup spoonfuls and to wrap as if about an icicle it was treating itself.
It is important to stick very well the edges with water or white of egg of egg to prevent that the landfill goes out at the moment of frying.
They can freeze!!
Fry in warm well oil.
Accompany with soy sauce of or with sweet and sour sauce
To put to the fire the vinegar and the sugar.
To stop to boil to strong fire during 2 minutes. To withdraw of the fire and to add the soy sauce and the chopped tomato.
This sauce you can use for many things, dishes of fish, of pork, vegetables gridiron, samosas, dumplings...
It remains very well for 3 days in the freeze.
Catering Iria Castro https://www.iriacastro.com/