This French recipe for almond cake and pears very ripe is exquisite !!
We will prepare a pastry cream and add a little rum and ground almonds. The pasta that we are going to prepare is a delicious cookie, very crunchy and at the same time very gritty.
You will see how much you will like this recipe, it is very very special!
Kisses.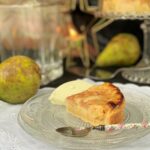 French almond and pear tart
2020-05-01 19:47:14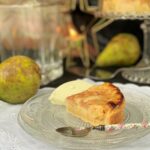 Serves 6
Ingredients
For one 20 cm diameter sandwich mold,
To prepare the sucre pasta
140 g flour
5 g sugar
4 g salt
100 g butter
1/2 beaten egg
To prepare the pastry cream
250 ml milk
vanilla extract
3 egg yolks
75 g sugar
20 g cornstarch
To prepare the almond cream (with these amounts of cream it will give you 2 cakes).
190 g pastry cream (indicated above)
125 g almond powder
125 g sugar
1 1/2 small egg
12 g cornstarch
1 c.s Ron
125 g butter at room temperature
Preparación
Prepare the sucre pasta by whisking the butter with the sugar and salt.
Add the egg and mix. Finally add the flour and work the whole to form a homogeneous mass.
Wrap in transparent film and keep a minimum of 30 minutes before using.
Line the chosen mold previously greased with the sucre paste at 3mm thick. Prick the base and bake it at 180ºC blindly (with a weight on it) for 12 minutes.
Let cool.
Prepare the pastry cream by boiling the milk with the vanilla extract.
Meanwhile mix the egg yolks with the sugar and the cornstarch. Mix the two preparations and put on the fire, boil for 1 minute, stirring the cream with some rods. Be careful not to get caught !!!
Remove from the heat and pour the cream on a small tray. Cover by touching the pastry cream with transparent film.
Once the pastry cream is cold, proceed to make the almond cream
In a bowl mix the butter at room temperature with the ground almonds. Beat until mixed. Add the sugar, the rum, the beaten egg and finally the cornstarch.
To finish mix with the 100 g of pastry cream and reserve in the fridge until ready to use. It can be frozen !!
At the time of making the pear tart, place the almond cream on the paste, spread and finish with slices of very ripe pear.
Bake at 190ºC for 25 minutes approx.
Remove, let cool and brush the cake with cold neutral gelatin or apricot jam.
Catering Iria Castro https://www.iriacastro.com/




Kisses