Good moorning
This Tuna tartare has nothing and it has everything!
It'S Easy to prepare, nice and exquisite.
Buy good tuna, the cooler the better and use a wonderful virgin olive oil.
Surely from this spring this dish will form part of your summer cookbook!
Kisses.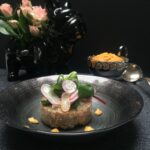 Tuna Tartare with radishes and cold cream of pumpkin
2019-03-20 07:25:27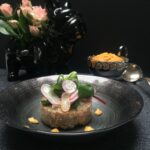 Serves 4
By tartare
140 g tuna per person.
Virgin Olive Oil
15 g chopped shallot
1 c. S. chopped parsley.
15-20 g mustard in grain.
Salt and black pepper from mill
Pumpkin Cream
300 GRS of pumpkin.
350 ml cream.
50 ml milk
35 GRS Butter
Salt, white pepper and nutmeg
½ Natural Yogurt
The 1/2 lemon juice.
Salt and white pepper.
Canons and radishes.
Preparación
Finely Chop the tuna without undoing it. Once chopped, insert a bowl and add the shallot very well chopped and mix.
Then add the mustard on the grain, the salt, the pepper, the chopped parsley and the virgin olive oil. Mix the whole with affection and try. Rectify the seasoning point if necessary.
Reserve in the fridge until the time of serving (no more than 25 minutes).
On the other hand peel and cut the pumpkin into small pieces.
Put a pot on the fire and add the butter with a droplet of oil.
Fry the pumpkin for a few minutes and cover it with the cream and the milk Let it cook until the pumpkin is tender, 10 minutes approx.
Season and add grated nutmeg. Crush and strain.
Once poured and cold, add the lemon juice and yogurt and re-strain.
In a dish put a ring and arrange in the tuna in an orderly and beautiful way (see photo), several canons, beet leaves and some very thin sheets of radishes. Dress with Vir olive oil
Catering Iria Castro https://www.iriacastro.com/