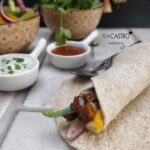 Tandoori chicken Wraps with mango chutney and Raita cream
2019-03-17 08:00:54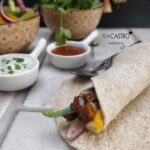 Serves 4
Ingredients
4 chicken breasts in thin strips and without skin.
12 Fine Fajitas
To Prepare the Tandoori marinade
80 g Greek yogurt
60 g honey of flowers
2 ml lime juice
2c. C Ground cumin
2 DC Sweet paprika
40 g Tandoori Powder
3 c. C Coriander Powder
Black Mill Pepper
For Mango Chutney
80 g quality mango chutney
20 ml lime juice
A pinch of chilli powder
35 ml vegetable oil
To Prepare the Raita
100 g Greek yogurt
1/2 Coarse grated cucumber
Very chopped fresh mint
Fine salt
Ground cumin
To Prepare the salad
1 red onion in very fine strips
Lime juice
Garlic in sheets
Red, green and yellow pepper
Many leaves of fresh cilantro
Preparación
Prepare marinade by mixing all ingredients in a bowl.
Add the chicken breasts and mix very well with all the marinade. Leave in the refrigerator for 3 hours.
Prepare the raita by grating the cucumber. Drain it very well and dry it carefully with a kitchen paper. Mix in a bowl with the yogurt. Add a little cumin and salt. Book in the fridge until the time to serve. When serving add fresh chopped mint.
Place the mango chutney in a bowl, add the remaining ingredients, mix and season.
Remove the tandoori chicken from the marinade. Season lightly.
In a hot skillet with a drop of oil, mark the Tandoori Chicken Little by little until browned.
Remove and rebook in an oven tray. In the same frying pan sauté the garlic and the peppers in strips with a little oil (they must be very little made, just sauté). Before removing the fire, add the red onion to very fine slices. Season and reserve.
When serving, heat the tandoori breasts in the oven at 200ºC for 3 minutes without being cold.
In a Wrap dispose in the center and along the vegetables, over a strips of Tandoori chicken and finish with a little mango chutney, Raita and many leaves and cilantro.
Enjoy, they're divine!!!
Catering Iria Castro https://www.iriacastro.com/