I love tempura. Every time I go to a Japanese restaurant I ask and at home I do a lot.
I give you the recipe of tempura and two sauces that you can accompany. One is cold, easy to prepare and exquisite and the other is hot, also very good.
Kisses and Happy Night.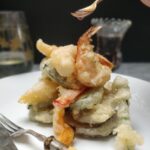 Tempura
2019-03-09 19:53:45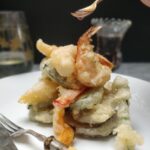 Serves 4
Ingredients
12 prawns.
1/2 large zucchini.
1 green pepper.
1/2 eggplant.
1 small red pepper
8 Green Asparagus
Fresh Chive Rings
Fresh spinach leaves
To prepare the tempura
1 egg (we will use the yolk)
Flour.
A pinch of baking power
Very cold water.
Sunflower oil.
Choose the one you like
1.Dashi (bonito broth) 100cc.
Soybean: 25cc.
Mirin (Sweet Sake) 25cc.
Ginger and radish grated.
2. Sweet and sour soy sauce (exquisite)
200 ml white wine vinegar.
200 Grs of sugar.
100 ml soy sauce
(You will spare but you can use it with meat, fish...)
Instructions
Clean the prawns removing the head, the shell and the skewer of the tail.
Make a cut in the gut of the prawn, and extract the intestines.
Make a longitudinal cut on the prawn loin.
Press the prawn with your fingers on the side of the loin, with the intention of stretching it. When performing this operation, we must listen to the sound of the prawn's texture when it breaks.
Cut vegetables into pieces about 7 centimeters.
To prepare the dough of the tempura, place the egg yolk in a cold water bowl with ice and on top of the ice.
Move lightly, making circles with the ice. Add the flour with the pinch of yeast in the water, and beat with a rod gently, ensuring that the dough does not take air. It should be lightly textured but covers the vegetables.
Flour very little ingredients and go through the tempura in batches, and do not throw the vegetables in the tempura put One by one and quickly in the tempura and go casting them in the hot oil.
(See preparation of dough).
Fry in abundant oil at 180 degrees, little by little, to prevent the oil from getting cold.
Remove the fried ingredients from the frying pan and put them in blotting paper. Serve right away.
1. To prepare the sauce (rest Soy)
Throw a saucepan, dashi, soy and mirin.
Place the saucepan with the ingredients in the fire, until it reaches the boiling point.
Add grated ginger and radish.
(Serve hot when taking tempura)
2. Prepare soy sauce by burning sugar and vinegar.
Leave the fire for about 3 minutes from the moment it starts to boil. Remove from heat and add soy sauce.
Allow to cool before taking. It keeps 15 days in the fridge.
(serves cold).
In the presentation bowl, arrange the tempura in an orderly fashion and play with the colours.
Serve with the sauce that you like. I love the bittersweet.
Catering Iria Castro http://www.iriacastro.com/