I love to cook rice and it is also one of my favorite foods. I like it in all ways, dry, broth, mellow … with its different broths and ingredients!
Today I am going to prepare a dry rice with a very special prawn broth. The rice will have cuttlefish, prawns and various vegetables: zucchini, green asparagus, red, green and yellow peppers.
The combination is exquisite and I will use a round rice of the Bomba variety from the area of "Calasparra" or the "Ebro Delta" area. Much encouragement that there is less left !!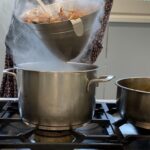 Rice with vegetables, cuttlefish and prawns (Part 1) Broth
2020-03-22 20:12:31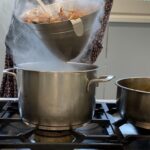 To prepare the broth
Heads and shells of 1 kilo of prawns
6 garlic cloves, minced
olive oil
10 chopped mushrooms
50 g tomato concentrate
black peppercorns
laurel
Preparación
In a pot on the fire with a little olive oil mark the garlic. At the moment it begins to take color add the shells and head of the prawns (reserve the bodies of the prawns for the rice). Add the chopped mushrooms and leave on the fire for 5 minutes, stirring occasionally.
At the moment when the seafood is well sautéed with a beautiful golden color (SEE VIDEO on instagram), add the concentrated tomato, the bay leaf and the black pepper.
Cover with water, remove with the help of a ladle all the impurities from the broth and cook over medium heat for 45 minutes.
Strain and reserve.
Catering Iria Castro https://www.iriacastro.com/