These burger and sandwich buns are delicious. Prepare them in time, leave them to ferment well and bake them for 20 minutes. You will see how delicate and exquisite they are. Delite everyone with a good beef burger!!!!
Kisses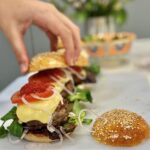 Buns with sesame for hamburgers
2020-04-03 19:22:01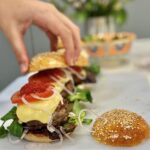 Serves 10
To prepare the Buns
390 g strength flour
80 ml water
160 ml milk
38 g sugar
a pinch of salt
2.cta dry yeast powder
1 egg
30 g butter, melted and cold
White sesame
I beaten egg
For the hamburger
1 kg meat (60% beef- 40% pork)
1/2 onion
1 small carrot
2 cloves of garlic
olive oil
perrins sauce
Salt and black pepper mill
40 g grated parmesan
To accompany
Red onion in very thin slices
sliced ​​red tomato
slices of Emmental cheese (or the one you like best)
oak leaf lettuce
canons
keptchup
Mustard...
Preparación
Preheat the oven to 200ºC.
In the kitchen robot with the rolling pin add all the ingredients and work for 10 minutes (see video).
Remove the dough from the robot bowl and work a few minutes on the work table with a little flour. Shape it into a ball and leave to ferment in a bowl, make some inscriptions on the surface with the help of scissors and cover with a kitchen cloth.
Let stand for 45 minutes (MUST DOUBLE YOUR VOLUME).
After time and once the dough is fermented, work it one minute again on the worktable and roll in small portions of approx 55g / roll.
Put them in an orderly manner on a baking sheet and leave to ferment again until they double in volume.
Paint with beaten egg and sprinkle toasted sesame on top.
Bake for approximately 17 minutes (they should be golden brown).
Poach the onion, carrot and minced garlic without taking color.
Meanwhile mix the meat with the rest of the ingredients and form hamburgers of 100 g approx.
Mark on a griddle or in a frying pan with a little oil until browned on the outside but leaving little done inside.
Arrange the Emmental cheese on top of each one and finish them in the oven for approximately 5 minutes (the cheese begins to melt).
Open the bread rolls with a serrated knife. Mark the two halves of each roll in a frying pan or griddle until lightly browned.
Finish the burger with the rest of the ingredients and enjoy it because it will be delicious !!!
Catering Iria Castro https://www.iriacastro.com/