One of the delicious cakes in the world !!!
This recipe is wonderful. It is easy to do, is juicy and is very well preserved for days.
Once done we will finish with a frosting of cream cheese, coconut, butter and sugar.
Let's go with the recipe!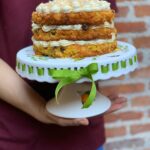 Carrot cake
2020-02-03 18:51:33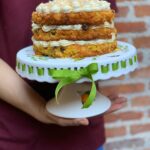 Serves 12
Ingredients
225 ml sunflower oil
4 eggs
350 g fine sugar
300 g flour
2 c.c. royal yeast
2 c.c baking soda
a pinch of salt
470 g grated carrot
180 g pineapple cut into small dice
90g pecans
40 g currants
A pinch of cinnamon powder
To prepare the cream cheese
200 g butter at room temperature
150 g sugar (icing sugar)
500 g cream cheese
Grated and roasted coconut
Preparación
Preheat the oven to 170ºC.
Beat until the eggs are mounted with the sugar. Add little by little and beating the oil.
In another bowl mix all the dry sieved. Add on eggs and continue beating at slow speed. Finally add the carrot, the pineapple very well drained, the toasted and chopped need and raisins.
Divide the dough into 3 "sandwich" molds 18-20 cm in diameter.
Bake for 30 minutes. (check before removing from the oven that it is well done).
Remove from the oven, let stand 15 minutes in the mold and unmold them on a rack.
Wrap them once cold in clear film and leave them overnight in the fridge.
To make the cream cheese beat the butter at room temperature with the sugar. Add the cream cheese and mix very well.
Remove the carrot cakes from the refrigerator and with the help of a spatula arrange on each of them cream cheese (see photo).
Finish with grated and roasted coconut on top.
Catering Iria Castro https://www.iriacastro.com/