You can Only say that if you like cheese as much as I do this cake to spread or eat with a salad is wonderful!
Disfrutadlo, ideal for a Buffet table.
Kisses and Happy weekend.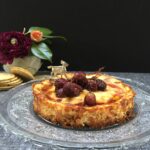 Salted cheesecake with grapes and honey
2019-04-04 06:51:51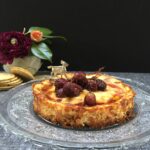 Serves 12
To Prepare the cookie base
125 g oatmeal Digestive biscuits
60 g butter
15 g grated Parmesan.
For The cheesecake
140 g Philadelphia
235 g ricotta
50 g brie in small pieces
50 g creamy goat cheese
80 g blue cheese (Stilton)
3 egg yolks
65 g quince in very small pieces
To Prepare the Grapes
300 g nice-sized red grapes
30 ml honey Flower
Virgin Olive oil
Preparación
Preheat the oven to 170 º C.
Prepare the cake base by shredding the biscuits with the cheese in the cooking robot and gradually add the melted butter in fine thread.
Lay the biscuit well-stretched at the base of the chosen mould (18 cm diameter). Let it cool for 20 minutes.
Meanwhile Prepare the cheese cake by mixing the cheeses (only 40 g of the blue cheese) and the yolks in a bowl.
Mix with electric rods (do not overtighten).
To finish adding the quince into small pieces and the rest of the blue cheese chopped.
Pour the cream into the mold on the cookie, stretch well and bake at 170 º C for 40 minutes. (Check that it is well curdled before removing from the oven).
In the meantime, in a frying pan or small saucepan, dispose of a little virgin olive oil. Add The Grapes and honey and leave a couple of minutes to the fire.
Insert into the oven and leave 25 minutes.
Remove from oven, let the cheesecake cool for 30 minutes in the mold before placing it in the display tray.
Accompany with the grapes that will be very juicy and sweet!
Adapted from Iria Castro
Adapted from Iria Castro
Catering Iria Castro https://www.iriacastro.com/