The recipe today is so simple to prepare that up a small child it might do it!
I am going to prepare my Clafoutis for you of tomatitos that is exquisite!!. For if you do not know it, the Clafoutis is a French tart that is elaborated baking in a mold type sauté entire cherries bathed in a liquid mass similar to the mass of preparing the creps.
I am charmed with preparing salty Clafoutis, this time I have done it with tomatitos cherry, cheese of goat, óregano and basil but to stop to demolish your imagination and to prepare it with what more you like.
It is divine also with beacon, poached leek and Gorgonzola, with caramelized onion, mushrooms and cheese cheedar … so you do not have excuse not to do it!!.
Kisses and enjoy today!!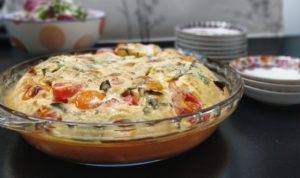 Goat cheese and cherry tomato Clafoutis
2018-09-26 07:07:22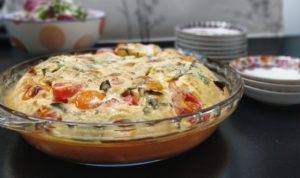 Serves 4
To prepare the Clafoutis
3 large eggs
100 ml semi skimmed milk
60 gr flour
1 c.c Baking powder
Oregano and fresh basil
150 gr Goat cream cheese
225 gr cherry tomatoes
Salt
black pepper of mil
Salad Green
Preparación
Preheat oven to 180ºC.
Put the flour, eggs, baking powder and milk into a food procesor and whiz until the mixture is smooth.
Empty the mixture into a bol and whisk whith the remaining ingredients.
Pour the mixture on themold, I have prepared in a mold of 18-20 cm of diameter.
Cook for 25 minutes or until the eggs is golden and has set.
Serve immediately whith a salad!
Catering Iria Castro https://www.iriacastro.com/