They are so lovely and crunchy that you won't get tired of eating them.
Ideal to accompany all kinds of cheeses, creams and even salads. They are very easy to prepare and the dough will freeze !!
Kisses.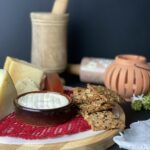 Black sesame, coriander and fennel crackers
2020-09-15 07:03:56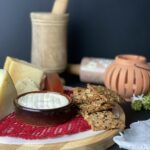 Serves 6
To prepare the crackers
75 g whole rye flour
75 g plain flour
75 ml cold water
2 c.s. virgin olive oil
3 c.s spice mix (coriander, fennel, sunflower seeds, sesame)
Salt
Preparación
Preheat the oven to 200ºC
Mix the flours in a bowl. Add the salt, oil and water and mix.
Wrap the dough in plastic wrap and keep in the fridge for 30 minutes.
In a mortar, lightly crush the coriander and fennel seeds.
Roll out the dough with a rolling pin and sprinkle the spices on top as we stretch it, leaving it very thin.
Once stretched, cut the dough to the desired size, brush with virgin olive oil and bake for about 8 minutes. They should be very crisp and golden.
Serve with a cheese board and you'll see what a delight !!!
Catering Iria Castro https://www.iriacastro.com/