Now that the good weather starts we feel like taking care of ourselves a little bit more truth. Well here you have this salad that is very original and exquisite!
The most important thing is that the radishes and fennel are cut very very thin. The combination of these two ingredients with the blue cheese and the tarragon touch is amazing!!!
Kisses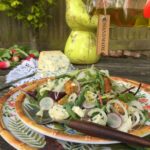 Blue cheese salad with radish
2019-05-11 06:58:44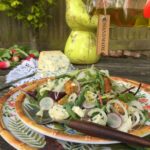 Serves 4
To prepare the salad
Croutons toasted bread with olive oil
1 not very large fennel bulb
8 radishes
60 g toasted walnuts
Rocket leaves
Mezclum Micro Salad
120 g blue cheese (Stilton)
Tarragon fresh chopped
For the dressing
25 ml lemon juice
25 ml sherry vinegar
1 clove of crushed garlic
150 ml virgin olive oil
Salt and black pepper from mill
Preparación
Preheat the oven to 180 º C.
Prepare the dressing by mixing in a bowl the lemon juice with the sherry vinegar, garlic, salt and black pepper.
Gradually add the oil while emulsifying the mixture with the hand rods.
Put on salt and reserve in the fridge until the time to use.
With the help of the mandolin or slicer of cold cuts the fennel bulb as fine as you can. Do the same with the radishes.
In two Boles we will have prepared with cold water and plenty of ice to dispose of the radishes and fennel.
Leave in cold water for a minimum of 20 minutes.
This is important that you do it before serving the salad.
This way the radishes and fennel will be super crunchy and freshest!!!
Toast the chopped walnuts in the oven until they catch a nice golden color.
Chop the cheese.
At the time of serving cut the half of the cheese and put it in a bowl. Add the fennel and the well dried radishes, the micro mezclum salad and dress. End up adding some of the bread croutons.
Divide the salad among plates and finish by adding the arugula leaves, the rest of the cheese, croutons of bread and the chopped walnuts.
Add a fine line of dressing and freshen with the chopped fresh tarragon.
Catering Iria Castro https://www.iriacastro.com/