Good morning
The Mexican name of this dish is huevos rancheros. They are eggs with chilli, red onion, peppers… and are ideal to serve them at breakfast!
They are very easy to prepare and I advise you to serve with bread or tortitas, need to dip in the sauce!
Happy weekend.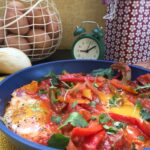 Huevos rancheros
2019-05-17 07:30:24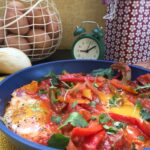 Serves 4
To prepare the Huevos rancheros
4 Hen's eggs
Virgin Olive oil
1/2 Red pepper
1/2 Yellow Pepper
1/2 Green Pepper
1 Chillie Medium Hot
Salt and black pepper from mill
1 red onion
1 clove of chopped garlic
1 C.C. Dry Spices Mix
600 ml canned natural tomato
Chopped cilantro
Optional
Grated cheddar cheese
Avocado
Tortitas
Preparación
In a frying pan, heat a little oil.
Add all julienned vegetables (thin strips) and chopped garlic clove.
Sauté for 5 minutes. Add the chopped chilli and the dry spices mixture and leave 5 more minutes.
Add the tomato and mix together. Leave the fire for 10 minutes, boiling slowly.
Put salt and black pepper to the point and remove from the fire if they are not going to be served at that time.
At the time of disservice put everything to the fire, at the moment it is hot to break the 4 eggs on the vegetables and with the help of a spoon cover part of the egg white with the vegetable.
Leave the fire until the eggs are done but it is important that the yolk is very little made.
Remove from the fire and if you like cheese add grated cheese over, avocado and lots of fresh chopped cilantro.
Serve with bread or tortitas!
Adapted from mexican food
Adapted from mexican food
Catering Iria Castro https://www.iriacastro.com/