With artichokes and with all vegetables in general I think curries are one of the things that I like the most. Today's curry is simply delicious. Points to consider: Do it calmly, you should reduce the curry with the cream, juice and chicken broth until you get a little density. When you add the potato chips, bring to a boil for 25 minutes, little by little, so that the potato is just right and the curry is a fine and delicate cream !! Enjoy it, it is worth doing and if you prefer to do it with pork or chicken you have it very easy. Sauté the meat cut into pieces in a saucepan with a little coconut and olive oil. Remove the meat and in that same saucepan proceed with the recipe (see VIDEO RECIPE). At the last moment add the meat and leave on the fire for 5 to 10 minutes. Let it rest before serving, it will gain in flavor !!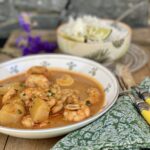 Massaman curry with prawns and Basmati rice
2020-04-08 18:31:44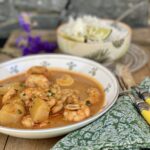 Serves 4
Ingredients
2 c.s. coconut oil
• 3 c.s. Massaman curry paste
• 1 Lemongrass
• 30 g grated galangal
• 4 Kafir lime leaves
• 30 g palm sugar
• 400 ml coconut cream
• 200 ml coconut milk
• 200 ml fish fumet
• The zest of 1 lime
• A splash of fish sauce
• 250 g potatoes
Salt
• 500 g prawns or prawns
• 100 g roasted unsalted peanuts
• 1 red chili
• Basil leaves
Basmati rice
Lime wedges
Preparación
Heat the coconut oil in a saucepan. Add the Massaman paste and leave on the fire stirring with the help of a spoon for 1 minute. Add a splash of coconut milk, lemongrass, galangal, and lime leaves. Leave on the fire for 5 more minutes and then add the palm sugar and cook for 2 more minutes.
Add the cream, the coconut milk and the fish sauce. Let cook for 20 minutes. Then add the potato chips and when they are almost done add the lime zest and the fish sauce. Boil 1 minute more and remove from heat.
Discard the lime leaves and lemongrass.
Cook the long beans chopped in salted water. Reserve.
In a frying pan, sauté the prawns with a little sunflower oil. Add the prawns to the curry and the red chili and cook for 5 minutes.
At the time of serving, add the Thai basil leaves, the roasted peanuts and serve with a little Jazmin rice.
To cook the Jazmin rice
Wash the rice very well, stirring it by hand to rinse it.
For a quantity of rice-1 ¼ of water.
Cook over high heat covered. Lower the heat and leave it for about 12 minutes. Remove from the heat and let it rest 10 minutes before serving.
Do not add salt to the rice!
Adapted from Iria Castro
Adapted from Iria Castro
Catering Iria Castro https://www.iriacastro.com/